Modi in Triupra highlights: BJP's 'hira' will take you forward, not 'Manik'
Updated on Feb 08, 2018 03:37 PM IST
The prime minister is addressing two rallies in Tripura that goes to polls on February 18.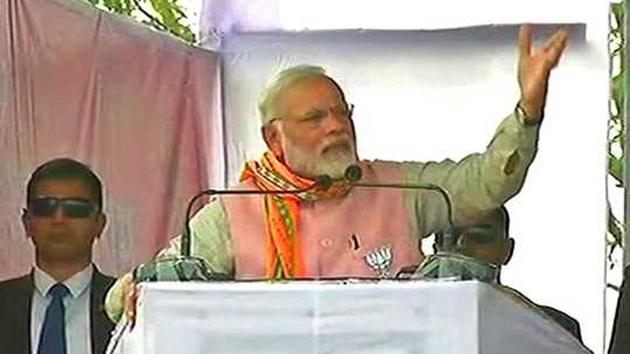 Prime Minister Narendra Modi called for change, saying poll-bound Tripura no longer needed 'Manik' but wanted 'hira' (highways, i-ways, roadways and airways) at rallies in Sonamura and Kailashahar on Thursday.
Raising chants of 'chalo paltai' (lets change), Modi promised better connectivity to the state, saying the BJP would also focus on three Ts – trade, tourism and training.
Modi's rallies heat up the battle between the BJP and the CPM. The Left party has been in power for 25 years, with chief minister Manik Sakar leading it for the past 20.
The assembly elections in Tripura are slated to be held on February 18 and the counting will take place on March 3.
Follow this space for live updates from Modi's address:
3:34pm: Modi ends speech with chants of 'Bharat Mata ki Jai' and 'Chalo paltai' (lets change).
3:33pm: Delhi will support you in going forward.
3:32pm: Modi repeats his three Ts pitch in Kailashahar.
3:30pm: This 'hira' will take you forward.
3:29pm: This 'Manik' over here is not going to be useful. Which is why I have brought a 'hira' for you. H stands for highways, i for information way (i-way), railway and airway.
3:26pm: If the CPM government remains in power, Tripura will continue to go backwards. Do you want the state to slip further behind?
3:25pm: That is why you should bring in a BJP government; we will ensure everyone gets minimum wages.
3:22pm: People across the state get minimum wages. But here in Tripura, you don't get it.
3:20pm: We dream of providing good education to children, employment for youth and good quality medicines for the elderly.
3:19pm: We want to affordable and quality healthcare for all. That's we announced the Ayushman Bharat Yojana recently to help the poor.
3:16pm: I want Tripura to get the same benefits as the other states.
3:15pm: Center sends money for the development of Tripura. However, most of the time the money remains unspent by the Tripura government, Modi says.
3:12pm: Do you not want freedom from the 'goondagiri' of the CPM-party led government?
3:11pm: Over here, there is no difference between party and government, Modi says of CPM-led government in Tripura.
3:10pm: The Communist Party says its very honest. But people of Tripura know better.
3:07pm: At a time Tripura is celebrating its golden jubilee, the focus must be on 'vikas' (development).
3:04pm: Tripura needs double engine of growth... A BJP government in the state as well as the BJP-led NDA government at Centre:
3:01pm: Do you not think it is time for a new government? Shouldn't you remove the current government?
3pm: In 50 years, Tripura has not seen any development. We will do the needful by 2022.
2:55pm: These elections are not about any candidate or a political party but the aspirations of people of Tripura, says Modi.
2:50pm: Modi begins addressing rally in Kailashahar in Hindi.
1:28pm: Modi ends his speech with chants of 'Bharat mata ki Jai' and 'Chalo Paltai'.
1:27pm: When you press the button on the electronic voting machine, you will hear 'Chalo Poltoi' (let's change).
1:25pm: Others might threaten you with taking away your Aadhaar card, etc., but we will not.
1:24pm: Bamboo was categorised as a tree for so many years. This hampered the tribals who grow bamboo here. We changed it through the 'National Bamboo Mission' and categorized it as grass so that it can be utilised.
1:22pm: People who ruled in Delhi do not understood what Tripura needs.
1:20pm: Through the UDAN scheme, we are promoting air connectivity in the North East and Tripura will immensely benefit from the move.
1:15pm: Want to give Tripura three Ts – trade, tourism and training for our youngsters.
1:13pm: People in Tripura do not deserve any 'manik' but a 'hira' – highways, i-ways (digital connectivity), roadways and airways.
1:10pm: We are a party that believes in the mantra of 'Vikas.' Our aim is 'Transformation by Transportation'.
1:05pm: The present government in Tripura has established an atmosphere of fear among the people who speak against them.
1:03pm: People of Tripura must get the benefits of 7th Pay Commission.
1pm: Why is it that people here do not get the minimum wages? The Communist government here has ruled the state for 25 years and ruined it.
12:57pm: The scams and corruption that leadership of this state hides behind the 'white kurta' and 'bank account' must come in public domain.
12:53pm: Tripura wants to attain new heights of glory. People here aspire for better employment opportunities, says Modi.
12:50: Prime Minister Narendra Modi begins addressing rally in Sonamura in Hindi.
Personalise your news feed. Follow trending topics