Keep it personal: Why Sushma is more popular on Twitter than other Modi ministers
Hindustan Times, Pune |
Abhay Vaidya
Jun 05, 2017 04:27 PM IST
Personal engagement with people on Twitter by ministers of the Modi government emerges as a primary reason for their popularity, a research by a Pune-based research agency said.
External affairs minister Sushma Swaraj's personal engagement with people on Twitter addressing their concerns is among the primary reasons for her popularity on the social media platform, an analysis of tweets by 10 randomly selected ministers of the three-year-old Narendra Modi government has shown.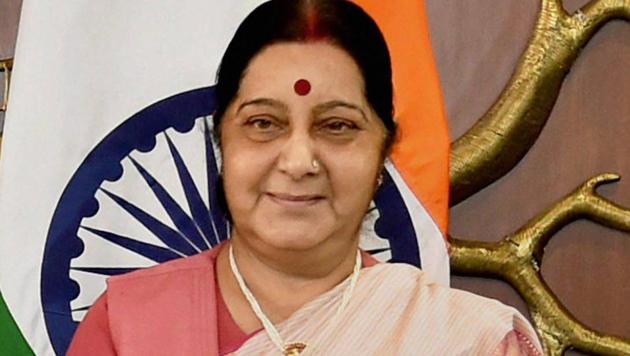 CPC-Analytics, which operates out of Berlin, Strasbourg and Pune, undertook a study of the tweets by these central ministers and ministries to assess the impact of e-governance communication strategies over the last three years.
Twitter activity by the ministers and ministries of external affairs, finance, railways, environment, urban development, health and family welfare, communication, agriculture, tourism and power were examined under the study titled 'Citizen Engagement With Indian Ministries Through Twitter'.
"We are not aware of a similar study. We feel that the PMO might be doing similar work for their internal assessment," Sahil Deo, the Pune-based co-founder of the firm, told Hindustan Times on Monday.
Deo said the study was representative of the three years of the Modi government.
Follow the leader
Swaraj, who tweets from the handle @SushmaSwaraj, has a far higher following at a whopping 8.1 million than that of finance and defence minister Arun Jaitley, who is followed by 7.1 million people on Twitter, the analysis by the research agency has shown.
Railways minister Suresh Prabhu (@sureshpprabhu) is the other minister in the Modi cabinet who has a strong following of 2.9 million because of this personal engagement.
Union environment minister Anil Dave, who died last month, power minister Piyush Goyal and tourism minister Mahesh Sharma had the least following among the 10 ministers.
Government push
The Modi government's emphasis on integrating Twitter into the government's communication strategies was the context for the study. While Prime Minister Modi (@narendramodi) increased his own Twitter following to 30.3 million accounts over the past three years, almost every other ministry at the Centre took to Twitter with mixed results.
The application of Internet Communication Technologies (ICT), social media and e-governance platforms for civic engagement by the government, dialogue with citizens and engagement with voters and constituencies was the other reason to undertake the study.
Researchers Jonathan Rummel and Deo explained that the underlying theory of 'Social Media Logic' presented the initial framework for the study. Citing previous research, they explained social media represented a dramatic shift in the manner in which information was being conveyed in societies.
Unlike in the past when governments and media organisations "existed as proprietary sources of information," social media now allowed for a complex system in which individuals "could not only impact but dictate information", they said.
Two-way communication
Tweets by the ministers were categorised in the 'managerial' and 'consultative' models ranging from one way communication from the government to the public (single loop) to crowdsourcing public opinion and finally the 'participatory' model or two-way communication (double loop), where information originated from multiple sources and was used by multiple sources to enact government change.
The study noted Swaraj took office in May 2014 and her following soared to 7.71 million (at the time of research) and the ministry of external affairs (@MEAIndia), which joined Twitter in December 2011, had only 1.4 million followers, despite the longer presence and substantially higher tweets. As against 5000 tweets by Swaraj, the MEA had tweeted 14,200 times during the same period.
Participatory model
Swaraj's following was far higher than the MEA's because of her 'response' tweets and participatory model. "Tweets asking for assistance with MEA services such as repatriation of family remains, lost passport support and expatriate community aid are asked of the Minister herself, requiring new internal communication strategies and prompt policy action," the study noted.
While the MEA Twitter handle seemed to focus on service delivery and policy updates through its 'managerial model', @SushmaSwaraj "manages public services in a larger volume via its 'participatory model', it added.
Tweets from the minister reflect her engagement with people in distress. For example, to a tweet from a Pakistani, @saeedayub: "I sold half of my assets 4 my father's liver transplant from india and now no medical visa for us. why common man suffers," @SushmaSwaraj replied: "My sympathies are with you. We will give you the visa. Sartaj Aziz Sahib should recommend your case."
Another of her most popular tweets was in response to a Twitter appeal to her from the husband of a woman from Jalandhar, who was 'sold and tortured' in Saudi Arabia. On May 30, Swaraj tweeted: "Thanks for bringing this to my notice. Sukhwant Kaur is returning home on 31 May 2017 at 0415 hrs by Flt G9406."
Railway response
At the ministry of railways, the railways minister's official Twitter handle, @RailMinIndia, and his personal handle @sureshpprabhu complemented one another while operating in distinct styles. Both maintained followings of over 2.5 million accounts although Prabhu had substantially fewer tweets (33.8 thousand) as against the 302 thousand of the minister handle.
"Frequently hailed internally and externally as one of the most responsive ministries on social media, the Railway Ministry has culminated a dynamic online community," the study said.
While @RailMinIndia was high on direct citizen engagement via 'response'and 'feedback' tweets, @sureshpprabhu prioritised 'announcements' and 'information' to fill in the void left by his official Twitter handle.
Jaitley had a substantially higher following at the time of the study (7.32 million) than his official handle (@FinnMinIndia), which was followed by just 6,70,000 despite more than thrice the number of tweets from Jaitley's personal handle. This was because of the different audience of the two Twitter handles - the official one focusing on ministry matters and Jaitley's personal handle publishing notices relating to the finance and defence ministries.
The poor engagement of farmers on Twitter and the low citizen engagement by the power ministry were among the reasons for their low Twitter following.
CPC-Analytics is a three-year-old firm founded in Germany by economist Christian Franz.
The Twitter study on the Modi government was undertaken in association with MediaNext, a Pune-based firm engaged in media-related activities and presented before select journalists in Pune by the firm's chairperson Anand Agashe on the occasion of the company's eighth anniversary.