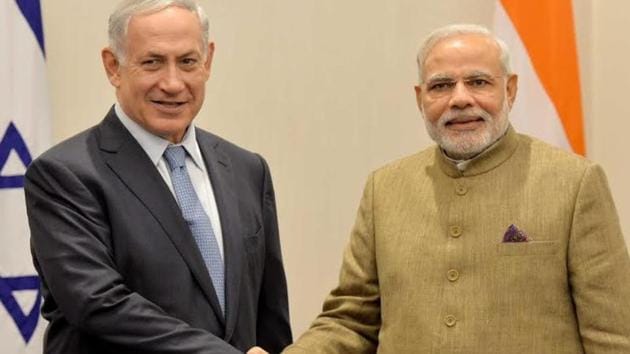 Modi's historic visit to de-hyphenate relations with Palestinians, says Israeli media
Prime Minister Narendra Modi's visit to Israel has been described as "historic" by the Israeli media, which believes it will also help de-hyphenate India's relations with the Palestinians.
UPDATED ON JUL 04, 2017 05:01 PM IST
Prime Minister Narendra Modi's visit to Israel has received wall-to-wall coverage in the Israeli media, which has described it as a historic development that will help de-hyphenate New Delhi's relations with the Palestinians.
The first visit to Israel by an Indian prime minister since the two countries established diplomatic ties a quarter century ago figured extensively on Israeli news websites, with some providing live updates on special sections devoted to Modi's three-day trip.
Modi's visit will mark a significant warming up of bilateral ties and also "express the fulfillment of a long-unrequited desire, dating back to the early days of the Jewish state, for close ties with, and recognition from, India", said an opinion piece on the Haaretz website titled "How Israel went from 'contaminated' by colonialism to India's strategic ally".
A report by The Times of Israel noted Modi's decision not to visit the Palestinian Authority and said this was "an exceedingly rare move for countries with good ties in the Arab world". It added, "New Delhi explains this anomaly as part of a desire to 'de-hyphenate' its relationships with Jerusalem and with Ramallah."
An opinion piece in Haaretz detailed the evolution of India-Israel relations in more colourful terms: "Israel has long complained that India treats it like a mistress: glad to partake of its defence and technology charms, but a little embarrassed about the whole thing and unwilling to make the relationship too public.
"With Narendra Modi's visit to Israel starting on Tuesday…it will be like the two countries arriving hand in hand to opening night of the opera season, lit by a barrage of flashing cameras."
The Time of Israel also noted that Prime Minister Benjamin Netanyahu had cleared his schedule to be at Modi's side throughout almost the entire visit in view of its importance. "This kind of attention by an Israeli prime minister is usually reserved for American presidents," it said.
The Israeli media also noted that though much has been made of the security and defence cooperation between Israel and India, the Israeli government was focussing on boosting collaboration in areas such as water management and agriculture.
Haaretz reported that economic issues would be at the heart of talks and both countries had prepared a roadmap of joint economic undertakings. The Israeli cabinet approved a document with scores of bilateral measures and a budget of 280 million shekels (about $79.6 million) – "a bigger sum than Israel has ever set aside for China, Africa and Latin America combined", the report added.
"The centerpiece of the proposals drawn up is to deploy Israeli water and agricultural technology in India. Thanks to its monsoons, India is home to some of the rainiest places in the world, but many of its water sources are polluted. Cleaning up the Ganges River alone will be a 25-year project," said the report headlined "Wake up, Israel! Indian PM Narendra Modi's visit will make history".
However, the report also compared the "childish awe" that accompanied US President Donald Trump's visit to Israel in May and the relative "indifference" among the people to Modi's arrival. It said aspects of Trump's visit were covered live on radio and TV even though his "problematic performance in office has already undermined his credibility".
In contrast, Modi's visit will "mark an historic occasion" as he "presides over an economy that is growing at a dizzying pace and could one day emerge as the world's largest".
Another piece in Haaretz questioned whether Israel should pivot towards India because of Trump's instability. Since Israel is uncertain of Trump's stand on key issues, the article asked whether redemption would come "via New Delhi".
Besides meetings with senior Israeli leaders and businessmen, Modi's itinerary includes meeting a Jewish victim of the 2008 terror attacks in Mumbai, visiting a flower farm run by one of Israel's leading floriculture firms and a desalination plant, addressing a rally for thousands of people of Indian-origin in Israel and paying tribute at a military cemetery in Haifa to Indian soldiers who died in World War 1.
Close