Mohammad Zubair, Teesta Setalvad arrested for exposing truth, says Mamata
Jun 28, 2022 07:40 PM IST
New Delhi, June 28: Opposition parties led by West Bengal chief minister Mamata Banerjee on Tuesday, criticised the Bharatiya Janata Party-led central government over the arrest of journalist and co-founder of AltNews Mohammad Zubair and social activist Teesta Setalvad for "trying to expose the truth"
New Delhi, June 28: Opposition parties led by West Bengal chief minister Mamata Banerjee on Tuesday, criticised the Bharatiya Janata Party-led central government over the arrest of journalist and co-founder of AltNews Mohammad Zubair and social activist Teesta Setalvad for "trying to expose the truth".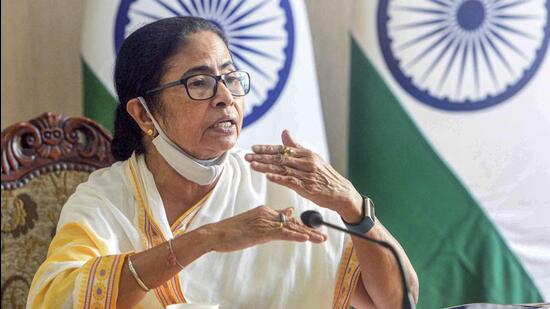 Addressing a party gathering in Asansol, the Trinamool Congress supremo said, "Why have you arrested Mohammed Zubair and Teesta Setalvad? What wrong have they done? Does speaking out the truth or exposing the truth a crime? Those who are speaking out against this government are either harassed by using agencies or are arrested," reported PTI. She added that those who spread hatred and violence in the country are not being arrested, but those who fight against such people are being harassed.
On Monday evening Zubair was arrested in a case related to an "objectionable tweet" he had posted in 2018 against a Hindu deity. In its First Information Report (FIR) against Zubair, the police said the words and the picture he used in a 2018 tweet "against a particular religious community and are highly provocative and more than sufficient to incite a feeling of hatred among people". His arrest came weeks after he had flagged ex-BJP spokesperson Nupur Sharma's comments in the Prophet row.
Congress on Tuesday also condemned the arrest of the journalist and said that perpetrators of hate speech will receive political patronage while people who report that hate will be behind bars. "This is nothing but a message from the government-- a coward government… What was his fault? He was basically breaking through fake news, he would report that," said party spokesperson Supriya Shrinate.
Taking to Twitter, Communist Party of India (Marxist) leader Sitaram Yechury said, "Release @zoo_bear immediately. The Modi government is insecure & threatened by anything that exposes the fake hate machine of misinformation." All India Majlis-e-Ittehadul Muslimeen (AIMIM) chief Asaduddin Owaisi also said, "@DelhiPolice does nothing about anti-Muslim genocidal slogans, but acts swiftly against "crime" of reporting hate speech & countering misinformation."
In the latest update in journalist Mohammad Zubair's case, the Delhi court reserved order on Delhi police plea seeking further custody of Zubair. He was brought to the Patiala Court House on Tuesday by the Delhi Police, wherein the latter stated that Zubair had allegedly used controversial tweets to hurt religious feelings in an effort to get fame. Further, Delhi Police alleged that Zubair had intentionally formatted his phone and also refused to cooperate with authorities in the investigation.
On the other hand, Teesta Setalvad has been remanded in Ahmedabad till July 2 in a case registered against her on charges of forgery and criminal conspiracy, amongst others, in the 2002 Gujarat Riots.