Mukroh firing: Pressure groups call for state-wide non-cooperation movement
Nov 26, 2022 06:14 PM IST
The Hynniewtrep Integrated Territorial Or Territorial Organisation (HITO) in a statement has invited people to attend a 'Red Flag' rally on Saturday 26th November at the U Soso Tham auditorium premises from 3pm onwards
Three days after a firing along the Assam-Meghalaya border killed six persons, Meghalaya's capital Shillong wore a deserted look on Friday as government offices remained mostly vacant, markets completely shut down and streets devoid of the usual Friday traffic.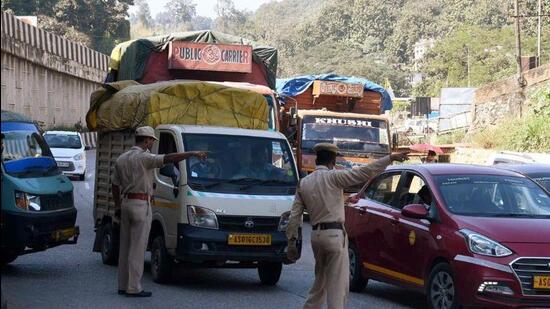 With pressure groups calling a non-cooperation movement against the state government for failing to protect the lives of innocent citizens and responding rather meekly to what it is being called the 'Mukroh massacre', law-abiding citizens chose to remain indoors rather than face the brunt of hooligans and vandals.
Government officials at the state secretariat told HT that attendance was around 30-35% in govt offices, while no data has been collated as far as other districts are concerned.
Also Read:Shah assures of CBI probe into Assam-Meghalaya border firing
According to Meghalaya DGP Dr LR Bishnoi, no untoward incident was reported from any part of the city and the situation is normal and was under control.
"Shillong was peaceful today and the entire Shillong-Guwahati highway GS road was free from any incident," he said, adding, "Our officers and men are on round-the-clock patrolling with magistrates monitoring the situation in all the districts."
Fuel tankers began plying from Guwahati to Shillong under armed escort by Meghalaya police to ensure the continuous supply of petrol and diesel to the fuel bunkers here.
A petrol bunker owner informed that 27 tankers, escorted by armed personnel, entered Meghalaya from Assam on Friday, adding that there is no truth in rumours that fuel was running out.
The Meghalaya food and civil supplies department communicated the government's assurance to the Assam Petroleum Mazdoor Association (APMA) on Thursday night, following an announcement that the association's tankers would stop plying to the hill state, citing security concerns.
Members of the Iatyllilang Tourist Taxi Drivers' Association (ITTDA) met with their counterparts in Assam earlier on Saturday and had fruitful discussions resulting in an understanding that Assam tourists vehicles will ferry passengers up to the Meghalaya border, and from there on, Meghalaya cabbies will take over.
Jyrwa called upon the state government to ensure their security and that of their passengers to prevent any untoward incident.
"Meghalaya police told us to enter Assam at our own risk today and so did the Assam police. If both sides cannot protect us then who will?," he asked, adding, "We request both governments to take this matter seriously. Our vehicles and drivers have also been assaulted in these two days of trouble. We are earning our daily bread, we cannot afford to sit at home even one day. We hope the government listens to us."
Also Read: CBI to probe border firing incident that killed 6: Assam CM
Meanwhile, the Hynniewtrep Integrated Territorial Or Territorial Organisation (HITO) in a statement has invited people to attend a 'Red Flag' rally on Saturday 26th November at the U Soso Tham auditorium premises from 3pm onwards.
"The purpose of the rally is to mourn the loss of our precious fellow citizens' lives, who continuously live in fear along the inter-state borders between Meghalaya and Assam, and, from time to time remain oppressed by all quarters especially both governments of Assam and Meghalaya," HITO President Donboklang Dkhar said.
Following Tuesday's incident, on Thursday, a police traffic booth was vandalised and police personnel were attacked with Molotov cocktails by miscreants, even as five pressure groups were holding a candlelight vigil at the U Kiang Nangbah Memorial adjacent to the Shillong Civil Hospital.
Inspector of Customs and Central Excise Alok Kumar, who was in Shillong for undertaking training in the National Academy of Customs, Indirect Taxes and Narcotics (NACIN), was reportedly attacked by a mob of hooligans at IGP point in the city as well. Kumar, a former officer of the Audit branch of the department in Guwahati, was in Shillong for a training session was attacked while returning to his guest house. He was admitted to the ICU in Woodland Hospital here in critical condition and has now been shifted to GNRC Hospital Guwahati on Saturday.
Meanwhile, the Assam Police has advised vehicles with Assam registration plates not to enter Meghalaya as they could be targeted. Since Tuesday, when the firing incident at Mukroh claimed 6 lives including that of 5 Meghalaya civilians and an Assam Forest guard, officials on the Assam side have prevented vehicles from the state from entering the neighbouring states.
On Tuesday, a Mahindra Scorpio vehicle from Assam which was returning to Guwahati after dropping passengers was torched by miscreants in Shillong. No one was injured in that incident.
Deputy Commissioner (East) of Guwahati police on Friday said, "This would continue till the situation in Meghalaya becomes normal. For those who need to enter Meghalaya urgently, we have asked them to take services of vehicles bearing registration numbers of that state."
Also Read: Forest official, 5 others killed in Assam-Meghalaya border firing
Union home minister Amit Shah on Thursday assured the governments of Meghalaya and Assam that the Central Bureau of Investigation (CBI) will investigate the firing along the border between the two states that led to the deaths of six people.
Assam chief minister Hemanta Biswa Sarma also announced Wednesday that his cabinet has decided to hand over the probe to the CBI.
Violence broke out near the border in the early hours of Tuesday after a truck allegedly laden with illegally felled timber was intercepted by forest guards from Assam. Six people, including five tribal villagers from Meghalaya, and a forest guard from Assam, were killed after it led to a firing incident.