Mumbai locals: World's busiest urban rail system is also the deadliest
Updated on Sep 30, 2017 12:28 PM IST
Mumbai's local trains carry about 7.5 million passengers every day, packed, on average, to 2.6 times their capacity.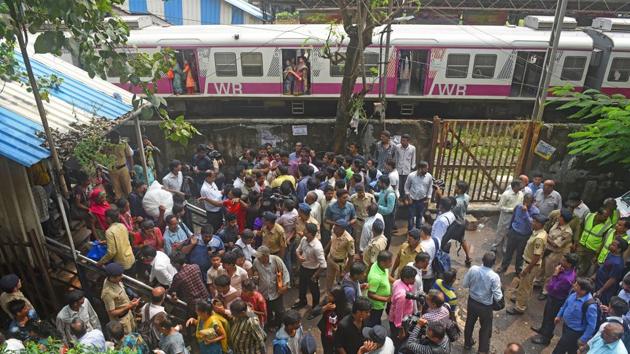 The death of 22 in a stampede on a bridge on Friday propelled the pressures on the Mumbai's local trains to headline news, but at least nine commuters die (as IndiaSpend has previously reported) every day on the world's busiest–and deadliest–urban railway.
In 65 years, the passenger load on Mumbai's suburban rail system grew more than eight times, while train capacity grew about three times, revealing how the city's commuter-rail infrastructure has failed its commuters, according to railway data and IndiaSpend extrapolations from those data.
Mumbai's local trains carry about 7.5 million passengers every day, packed, on average, to 2.6 times their capacity. In contrast, rail coaches on the Tokyo metro, a system known for overcrowding, carry double their capacity.
In 1952, Mumbai's suburban rail system was carrying 292 million passengers; by 2016 that number was up to 2.7 billion, or, as we said, about eight times higher. Over the same period, the number of trains grew about three times–from 741 to 2,800.

Source: 1951-52 to 2004-05: Indian Railway Statistical Manual; For 2016, the estimate has been arrived at considering an average load of 7.5 million passengers a day.
Such pressures on the commuter-rail system strain platforms, bridges–such as the one at Elphinstone Road where the stampede occurred–and other infrastructure as they struggle to cater to many times more commuters than they were designed for.
As a consequence, commuters in Mumbai routinely fall out of trains or die crossing the tracks. In 10 years to 2015, 6,989 died after falling from trains and 22,289 died crossing the tracks, as the Indian Express reported on September 13, 2015.
Between Jane 2016-July 2017, there were 3,380 deaths in Mumbai trains. The major causes among them were falling off crammed coach which accounted for 981 lives and run over at line crossing resulting in deaths of 1,126 people.
• 8 million passengers--more than population of Hyderabad--travel on Mumbai rail network every weekday on 2,800 services.
•Morning peak hour for Mumbai locals: 8.30-9.30am with 632,000 travelling. Evening peak hour: 6-7pm with 587,000 .
• Over 4,500 passengers packed in a 9-car Mumbai local train during peak hours. Capacity: 1,700
• Mumbai's suburban trains, on average, more than 4 minutes apart, contributing to overcrowding.
• Fewer handles on Harbour line than Central, Western lines; no handles b/w seats causing overcrowding near doors: TISS 2016 survey
• Mumbai trains run at 2.6x capacity, world's most crowded; bridges, platforms under pressure.
• Mumbai's suburban system carries 14-16 passengers per sq m of floor space.
(Published in arrangement with IndiaSpend)
(Indiaspend.org is a data-driven, public-interest journalism non-profit/FactChecker.in is fact-checking initiative, scrutinising for veracity and context statements made by individuals and organisations in public life.)
Personalise your news feed. Follow trending topics