Near-threatened water bird spotted after 16 years in Manipur
Updated on Jan 22, 2018 09:09 PM IST
A group of Mayang Urok, or the black-headed ibis, was spotted during the annual water bird census 2018 at the Tangjeng, an associated wetland of Loktak in Manipur.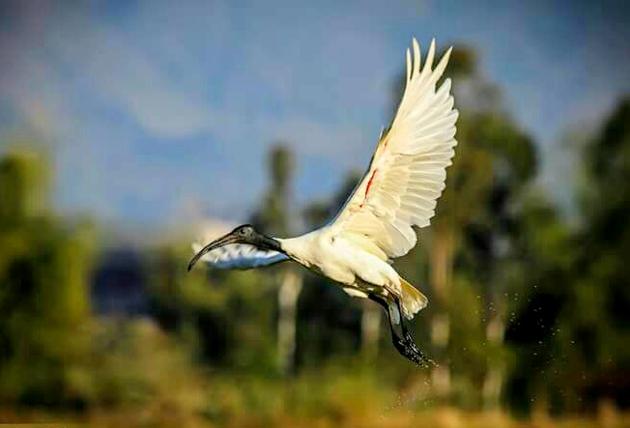 Hindustan Times, Imphal |
, Imphal
Sobhapati Samom
The oriental white ibis or black-headed ibis (threskiornis melanocephalus), a near-threatened water bird, which is locally known as Mayang Urok, was sighted after a gap of 16 years at Loktak and its associated wetlands in Manipur on Saturday.
A group of Mayang Urok, which has been listed as a near-threatened bird species under the Birdlife International and IUCN Red list, was spotted during the annual water bird census 2018 at the Tangjeng, an associated wetland of Loktak, according to state coordinator of Indian Bird Conservation Network, Manipur, R K Birjit.
The annual water bird census was conducted across 50 spots in and around Loktak and its associated wetlands. Around 250 enumerators, representatives of many social bodies around the lake, conducted the census under the aegis state forest department.
In 2017, the census team spotted only around 5,000 birds of 17 species in the lake against the sighting of about 47,088 birds of 68 species in 2016.
A total of 50,725 water birds, including the migratory bird population belonging to 65 species, visited the Lake in 2015 whereas 32,852 water birds of 57 species were seen in 2014.
The black-headed ibis will be listed in the census list for the first time this year.
This species of wading birds which breeds in the Indian subcontinent and southeast Asia, was once reported from the western hillside paddy fields of Thinungei village in Bishnupur and Lamphelpat area of Imphal in 2002, Birjit, who had been spearheading the standardised form of water bird census since 2014, said.
The respected ornithologist and founder of Indian National Congress Allan Octavian Hume's book Stray Feathers and J C Higgins-authored Game Birds of Manipur had reported the same in 1888 and 1932.
"Interestingly, this time, the water birds of Loktak seem to be taking shelter at Keibul Lamjao and at some pockets of the marginal habitat of Toubul, a village on periphery of the lake, in view of the hectic human pressure, high water level of the lake due to the hydro project and fishing," Birjit explained.
"Nine different duck species, including those locally known as Thoidingnam (Falcated duck) and Touthra manbi (Glossy Ibis), were also reported from Ningthoukhong, Toubul and Keibul areas where there is less human pressure," he said.
Keibul Lamjao is the country's only floating National Park since 1977 and the only habitat of the endangered brow-antlered deer, which is also the Manipur's state animal, 'Sangai'. The park is home to about 260 Sangai as per the 2016 census.