NIA investigating if Hurriyat received money to send Kashmiris to Pak for studies
The probe is part of NIA's larger investigation into funding of Kashmiri separatists from Pakistan to fuel unrest in the Valley.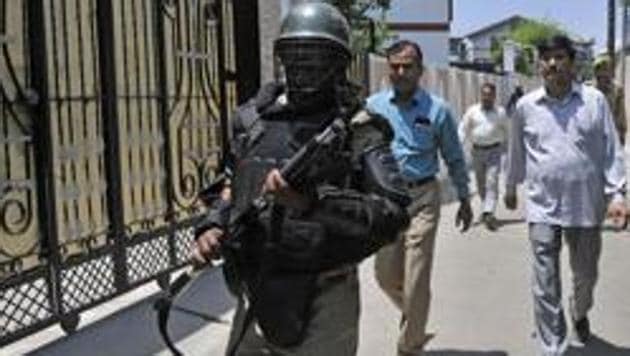 Updated on Jun 18, 2017 09:05 AM IST
The National Investigation Agency (NIA) is probing if some Hurriyat leaders are seeking and getting money to recommend Kashmiri students for medical or engineering studies in Pakistan.
The probe is part of the federal anti-terror agency's larger investigation into funding of Kashmiri separatists from Pakistan to fuel unrest in the Valley.
"We suspect that some of these separatists charge anything between Rs 25-Rs 30 lakh to recommend names of Kashmiri students for studying in Pakistan. For more than a decade now, Pakistan has reserved dozens of seats in its medical and engineering colleges for Kashmiri students, but they get admission only after a recommendation from Hurriyat leaders. We believe, in many cases, these recommendations come after money changes hands," said a senior NIA official. For years, there have been murmurs of sale of these seats but a formal probe is being initiated now.
The NIA believes the 'sale of seats' is one of the many channels of funding for Kashmiri separatists from Pakistan.
Investigators say other channels of funding include cross-LoC trade between PoK and J&K, donations for charities and even legal banking channel.
Reacting to the charges, Hurriyat spokesman Ayaz Akbar said they were allotted some seats to be recommended in the 1990s but then the party stopped recommending students. "For a few seats, we would get over 500 applications, which made it very difficult for us to accommodate everybody. (Syed Ali) Geelani Sahab has completely stopped recommending people," Akbar said.
However, the Moderate Hurriyat Conference led by Mirwaiz Umar Farooq said it had been recommending people from Kashmir for courses in Pakistan's colleges. The Mirwaiz said on an average, about 15-20 students are recommended for MBBS, 5-10 students for engineering and a few for other courses annually.
But he added that not everybody recommended by the Hurriyat got admission in Pakistan.
Earlier this month, the agency registered an FIR against unnamed Hurriyat leaders, leaders and associates of Hizbul Mujahideen, Lashkar-e-Taiba and Dukhtaran-e-Millat for getting money from LeT patron Hafiz Mohammed Saeed through Hawala route to fund violence in the Valley. Following the FIR, the agency searched the homes and offices of separatist leaders and suspected Hawala agents. Questioning of some of the suspects is in progress.
(With inputs from Ashiq Hussain)
Close Story
Personalise your news feed. Follow trending topics