Nipah virus: 10 deaths confirmed in Kerala, symptoms suspected in 2 Karnataka patients
Updated on May 22, 2018 09:47 PM IST
Tour operators are reporting mass cancellations in Kerala in the wake of deaths from Nipah Virus infection even as Tamil Nadu started screening people travelling from the neighbouring state for symptoms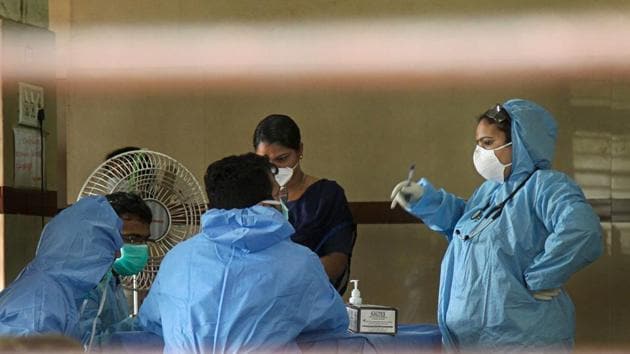 The number of deaths from the contagious Nipah virus infection in Kerala may have touched 14 with two more reported on Tuesday even as state and central health agencies stepped up efforts to contain the spread of the deadly virus.
Till Tuesday evening, 12 cases and 10 deaths were confirmed by the National Institute of Virology in Pune, which tested 18 blood samples for Nipah virus infection . Of the 12 people who tested positive, 10 have died and two are under observation, said Kerala health minister K K Shailaja .
Also read: Don't think I will be able to meet you all again, Kerala nurse tells husband in letter
No fresh cases have been reported over the past 24 hours, said Shailaja, but two persons with symptoms of fever and a travel and contact history with the infected and dead in Kerala have been hospitalized and are under observation in Mangaluru in neighboring Karnataka. Both patients are from Kerala and one of them had recently met with one of the people infected with Nipah virus in Kerala, according to reports from Mangaluru.
Tamil Nadu has started screening people travelling from Kerala for symptoms of fever and contact history, while Goa has also issued a warning even as tour operators are reporting mass cancellations in Kerala.
Panic continued to grip Kozhikode and Malappuram districts where the confirmed deaths took place, with everyone with fever insisting on getting tested for the Nipah virus . The blood samples of at least 80 persons have been sent to the virology institute in Pune for investigation and 30 persons are under observation.
The two unconfirmed NiV deaths at the Kozhikode Medical College Hospital have a history of contact. One of the men who died was a bystander at Perambra Taluk Hospital where the first three victims were admitted and the other had visited the infected family at the hospital.
Also read: Scared of Nipah virus, crematoria staff refuse to dispose dead bodies in north Kerala
An expert team from the All Institute of Medical Sciences joined the team from the National Centre for Disease Control, which has advised isolation and quarantine to contain and manage cases.
The virus has not been detected in domestic animals. "We have not yet confirmed bats as prime suspects," said Dr S Suresh, the national animal husbandry commissioner.
It is believed that members of the Moosa family in a village near Kozhikode were infected when some members of the family cleaned a well where some bats may have been roosting.
Personalise your news feed. Follow trending topics