'BJP's offer not acceptable, JD(U) won't join govt': Nitish Kumar
The JD (U) had contested the Lok Sabha as part of the National Democratic Alliance. Nitish Kumar's party won 16 seats, the BJP 17 and Ram Vilas Paswan's Lok Jan Shakti Party 6.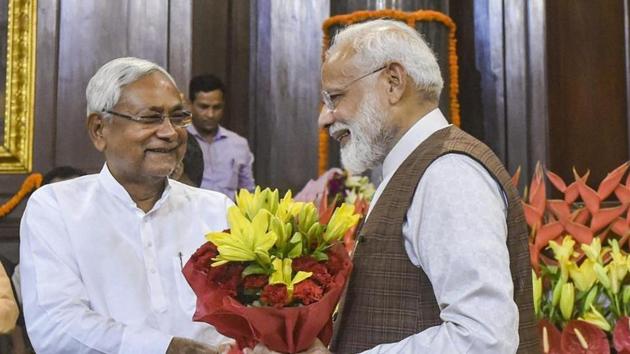 Updated on May 18, 2020 07:41 PM IST
In a first sign of rumblings within the National Democratic Alliance (NDA), the Janata Dal (United) announced on Thursday that it will not be a part of the Union government at the Centre.
Bihar chief minister Nitish Kumar, who heads the JD(U) and was present for the oath-taking ceremony on the forecourt of the Rashtrapati Bhavan, said his party will not be part of the NDA government as the Bharatiya Janata Party's (BJP) offer of participation was "symbolic representation."
"They (the BJP) said that they want to give one cabinet rank to every ally. Then we said that we will discuss it with the party members and then only we can say anything over this symbolic representation."
"I spoke to my party leaders and people and they were not agreeing to one berth and the symbolic representation. And this we communicated to them (BJP). They also called up in the morning and then we again conveyed our decision," Kumar told reporters in Delhi.
The JD(U), which rules Bijhar in alliance with the BJP and won 16 of the 40 seats in the state, wanted a bigger share in the council of ministers and had conveyed its demand to the BJP, which won 17 seats. It was not part of the Modi government in the last tenure and had walked out of the Congress –Rashtriya Janata Dal alliance in Bihar in 2017 to be part of the NDA.
Also Watch: Narendra Modi takes oath as PM for second term
Nitish Kumar had earlier indicated that his party wanted to join the BJP-led national coalition. Kumar, who predicted the return of the Modi government before the results were out, said "it is a given that allies will be part of the NDA government".
Kumar's party had stayed out of the outgoing government he had joined after dumping Bihar's early version of the grand alliance comprising Lalu Yadav's party and the Congress.
It had helped arrive at this decision given that the JD (U) – which had contested the 2014 national elections on its own – had only two lawmakers in the Lok Sabha. The JD (U) had been no match for either Narendra Modi-led BJP's campaign which had cornered 22 of Bihar's 40 seats or its other two rivals from the state.
.
Close Story