Now-friend, now-foe: How Nitish Kumar's alliances helped keep him ahead of the curve
Jul 30, 2017 12:22 AM IST
For much of the past 27 years, Kumar has lived to his image of an opportunistic politician. Since he hit Bihar's political mainstream in early 1990s, when his 'now-friend, now-foe' compatriot Lalu Prasad first became the state's chief minister, Kumar has also managed to set his own agenda.
Janata Dal (United) leader Nitish Kumar's decision earlier this week to jettison the grand alliance and rejoin forces with the BJP-led NDA is in keeping with his image as a sharp politician not afraid to take risks to set his own political agenda.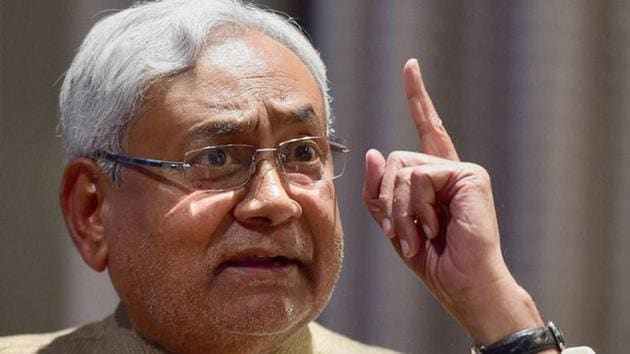 His critics have seen him as opportunistic, including his current partner Sushil Kumar Modi and his ex-partner Lalu Prasad. "He approached me to form a grand alliance against the BJP in 2015, when the chips were down for him. Now, he has pointed a finger at us on the issue of corruption as an excuse to break the alliance," Prasad, the leader of Rashtriya Janata Dal, said.
Prasad became the chief minister in 1990, when Kumar hit Bihar's political mainstream.
The two were great friends at the time. At a Janata Dal legislature party meeting at Braj Kishore memorial hall in western Patna in early March 1990, Lalu outwitted his more experienced rivals, former CM Ram Sunder Das and Raghunath Jha, to be elected leader of the JDLP.
"Nitish had played a crucial role in Lalu's victory, so much so that just as the outcome of the JDLP meeting was announced, he was hoisted in the arms of their supporters. Lalu-Nitish zindabad was the slogan that rent the air at the time", recalled a veteran socialist leader.
But, within months of Lalu becoming the CM, on March 10, 1990, the 'brothers' fell out. The main reason for the estrangement was that Nitish started feeling 'left out' from the decision-making process, as Lalu came more and more into his own.
In 1994, Nitish broke away from the Janata Dal to form the Samata Party, along with veteran socialist leader George Fernandes. It was a risk that proved disastrous for Kumar.
Samata party went into the 1995 Bihar assembly poll hoping to win a full majority but ended up with a mere seven seats out of the 315 it contested for the then 324-member Bihar legislative assembly.
Nitish won the Harnaut assembly seat in his native Nalanda district of south central Bihar. But so dejected was he with the outcome of the poll, won by Lalu's JD, that he preferred to return to pursue politics in the national capital.
Although given to socialistic persuasion, Nitish, his critics say, found no compunction in establishing contact with the BJP leadership in 1995, despite the saffron party carrying the communal tag.
But the move revived his career and the Samata Party won eight seats in 1996 Lok Sabha poll and 12 seats in the 1998 election in alliance with the BJP.
Nitish won successive LS polls from Barh Lok Sabha constituency in 1996, 1998 and 1999, even as Lalu his maintained his hold on Bihar, installing wife Rabri Devi as CM when the CBI arrested him in a fodder scam case in July 1997.
Between 1998 and 2000, Nitish served as minister in charge of surface transport, agriculture and railways in the NDA government headed by Atal Bihari Vajpayee. In August 1999, he resigned after the Gaisal train disaster.
He returned as railways minister from 2001 to 2004. In between, in 2003, he merged his Samata party with Sharad Yadav-led JD, to form the JD (U).
In November 2005, he led the NDA to a big victory in the Bihar assembly poll, bringing to an end 15 years of Lalu-Rabri rule. His commitment to good governance, rule of law and development saw the NDA repeat its assembly poll success in 2010.
Through these years, Nitish cemented his position by vote-winning measures such as providing reservation to extremely backward classes (EBCs) and women in panchayati raj institutions and the 'bicycle for girls' scheme that drew poor girls to school.
While building new constituencies of his own, Nitish carefully distanced himself from ally BJP's 'communal agenda', pushing special schemes for welfare of Muslims. It was his 'paranoia' to safeguard his Muslim support that laid the seeds of his break from the BJP.
In June 2012, Nitish cancelled a party he had hosted for top BJP leaders assembled in Patna for the party's national executive, after posters appeared showing him holding hands with Narendra Modi, the then CM of Gujarat, whose name was an anathema to Muslims.
So, when Modi was declared leader of the BJP's campaign committee for the 2014 Lok Sabha poll, in June 2013, Nitish broke his JD(U) away from the NDA.
"Nitishji had no compunction in working with us for almost eight years (2005-13). Now, for him the BJP has suddenly become communal", said BJP leader Sushil Modi, soon after the break. The same Modi is now back as deputy CM under Nitish.
His party, the JD(U) was decimated at the hands of the Modi-powered NDA in the 2014 Lok Sabha poll, winning just two out of 40 seats in Bihar to the NDA's 31 seats. Nitish resigned as CM in May 2014, handing over reins to Dalit leader Jitan Ram Manjhi.
In June 2014, Nitish had to plead with Lalu for the support of his 22 RJD MLAs for the two JD (U) Rajya Sabha candidates, who were facing defeat at the hands of rebels. Lalu obliged, paving way for a reconciliation between the two.
"It was a big mistake to oblige him", said an angry Rabri Devi, former CM, earlier this week.
But such was Nitish's sway over the JD(U) and its MLAs, he returned as chief minister in February 2015, despite stiff resistance by Manjhi.
In the following months, he stitched the grand alliance with Lalu and Congress, to defeat the BJP in the November 2015 assembly poll.
After 20 months as head of the GA government, Nitish called it quits as CM when his deputy, RJD chief Lalu's son Tejashwi, neither cleared the air on corruption charges that caused the CBI to name him in an FIR in the 'land for railways hotels lease' case, nor did he resign.
"Didn't Nitish Kumar know my father. Laluji, was facing corruption charges when he went to him for help and formed the grand alliance. Corruption becomes corruption only when this suits him", said Tejashwi, after the GA split.
JD(U) sources, on the other hand, said thanks to the 'overbearing shadow' of Lalu, which was 'inhibiting governance and development', a split in the GA had become 'imminent'.