'No Assam CM, no resort travel': Jairam Ramesh on 'low-cost' Bihar operation
Updated on Aug 10, 2022 10:10 AM IST
Unlike Operation Lotus, Bihar operation was civilised and low-cost involving no resort, no cash and no Himanta Biswa Sarma, Congress leader Jairam Ramesh said.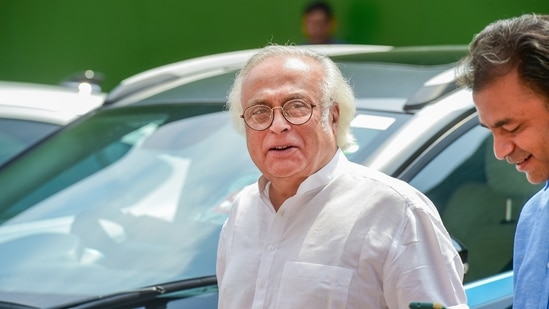 Congress leader Jairam Ramesh on Wednesday observed the differences between what happened in Bihar and what had happened in Maharashtra as both the state saw a sudden change of guard. "No cash caught, no ED raids, No Assam CM," the Congress leader said adding that everything was done in characteristic Bihar style, 'civilised and low cost'. On Tuesday, Nitish Kumar resigned as the chief minister of the NDA alliance and staked claim to form the government with the alliance of opposition parties. Also Read | 'BJP never betrays...': Chidambaram's 5 takeaways as Nitish Kumar splits with NDA
The dramatic developments in Bihar invited inevitable comparisons with Maharashtra which saw a change of guard recently. Sena MLAs led by Eknath Shinde travelled to Surat and Guwahati and after Uddhav Thackeray resigned from the chief minister post, the rebels supported by the BJP staked claim to form the government. Eknath Shinde became the chief minister and BJP's Devendra Fadnavis became the deputy chief minister. Only 40 days later, the state got new ministers.
In Bihar, on the other hand, the developments took place quickly following RCP Singh's exit from JD(U). Nitish Kumar alleged that the BJP was trying to break his party. He called a meeting of JD(U) MPs and MLAs at 11am on Tuesday. The RJD, the single-largest party in the state assembly, held a parallel meeting. At 1pm, there was another meeting of the Grand Alliance at the residence of former chief minister Rabri Devi in which MLAs signed a letter of support for Nitish Kumar. At 4pm, Nitish Kumar met the governor to resign as the NDA's chief minister. Following a meeting at Rabri Devi's place of the opposition plus Nitish Kumar, Nitish staked claim to form a new government in Bihar.
"Bihar was no Operation Lotus. No cash caught. No ED raids. No Assam CM. No resort travel. All done in characteristic Bihar style, civilised & low-cost. CM gets support of largest party and others. In Maharashtra, BJP engineered defections. In Bihar, BJP was rejected and ejected," Jairam Ramesh tweeted highlighting the difference between Maharashtra and Bihar.
Personalise your news feed. Follow trending topics