'No boycott calls will work': Opposition on Pathaan; Narottam Mishra says…
Jan 26, 2023 08:40 AM IST
Madhya Pradesh home minister Narottam Mishra said there is no point in protesting against Shah Rukh Khan's Pathaan now as a corrected version has been released.
Several Bajrang Dal workers were detained on Wednesday for disrupting the screening of Pathaan which had a successful first day at the box office amid controversies and boycott calls. Madhya Pradesh home minister Narottam Mishra who was one of the first to call for a boycott of Pathaan's Besharam Rang said there was no point in protesting as Pathaan released with Censor Board corrections. "I believe all rectifications have been made in it (film). The Censor Board has made corrections. Controversial words have been removed. So, I don't see any point in protesting now," the minister said as demonstrations were held in Madhya Pradesh against Pathaan.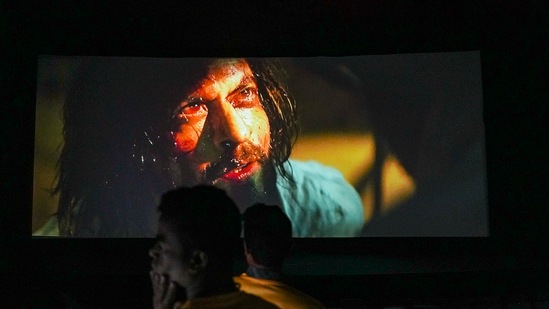 Shiv Sena (Uddhav Balasaheb Thackeray) MP Priyanka Chaturvedi said the record box office opening of Pathaan sends the message that the nation will not be driven by hate or divisiveness. "No agenda driven toxic boycott calls will work amongst the people. It is a true celebration of entertainment, cinema and Bollywood," Chaturvedi wrote.
Congress leader Pawan Khera tweeted: "It is sad how this regime has divided a cinema-loving nation into camps where movies are watched (or not) based on the political camp it has been bucketed into!"
Maharashtra Navnirman Sena on Wednesday warned the multiplex owners against shelving the screening of Marathi films in favour of Pathaan and said the first priority should be Marathi films. "The first priority in Maharashtra will be Marathi films and then films made in other languages. If Marathi film does not get a place in theatres, then the glasses of those theatres are more expensive, if they break, then it is not our responsibility," MNS leader Ameya Khopkar said.
Disruptions during the screening of Pathaan took place in Maharashtra, Madhya Pradesh and Haryana. Nine Bajrang Dal workers were booked in Faridabad for tearing posters of Pathaan at INOX. They also entered the hall and shouted slogans following which several audience members left the theatre.
A day ahead of the release, VHP withdrew its protest against the movie. In the recent national executive meeting of the party, PM Modi obliquely referred to the controversy and urged partymen to refrain from commenting on movies etc.