'Not assigned a single office,' UP minister threatens to resign from Yogi cabinet
Updated on Oct 27, 2018 11:43 PM IST
UP cabinet minister Om Prakash Rajbhar has been accusing the state's BJP government, of ignoring him (a minister in the same government) and the interests of the backwards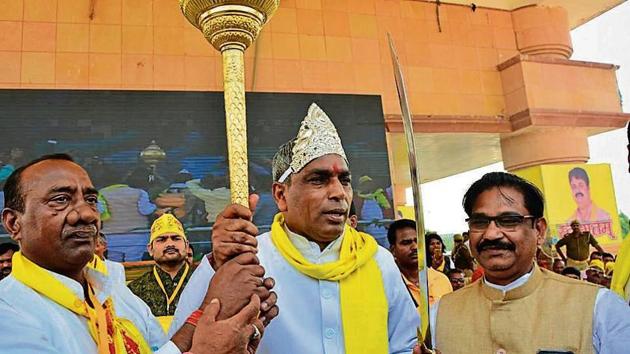 Hindustan Times, Lucknow |
HT Correspondent
Suheldev Bharatiya Samaj Party (SBSP) chief and Uttar Pradesh cabinet minister Om Prakash Rajbhar threatened to resign from the Yogi Adityanath government at his party's 16th foundation day rally in the state capital on Saturday.
"I didn't come to Lucknow for the sake of power. I joined the government because I wanted to do something for the poor. Should I fight this battle or become a slave of the BJP? I have not been assigned a single office till today. I have come here with the intention of announcing my resignation," he said at the rally.
However, he did not go ahead and announce his resignation during the rally 'Gulami chorho, samaj jodo (shun slavery, unite community).
Rajbhar has been accusing the state's BJP government, of ignoring him (a minister in the same government) and the interests of the backwards. He asked the people at the rally if he should resign.
The crowd, nudged by SBSP leaders sharing the stage with Rajbhar, kept shouting 'nahin' (no) making it clear that BJP's sulking ally was still undecided on its next step.
Both Rajbhar and Shashi Pratap Singh accused the BJP of cheating the backwards and the most backwards.
"BJP chief Amit Shah had promised to make efforts to provide 54% reservation to backwards but he didn't honour his promise. BJP people want votes of OBCs, but don't want to do anything beyond lip service for them," he said.
"What are we asking for? We have been demanding ban on liquor which has caused immense problem for backwards. We favour division of the state for better management, restoration of old pension scheme for all and eight- hour duty shift for police. But for our support, the BJP government hasn't even allotted us a office in the state capital," said Shashi Pratap Singh.
Throughout his address, Rajbhar repeated that he wasn't power hungry. "I want to tell you that I became a minister not for myself but to do something for my people and to fight for the poor," he said.
"He is angry at being ignored by BJP leadership. So far they haven't been able to allot an office to SBSP in the state capital. Then BJP chief Amit Shah during his recent visit to the state capital didn't meet him," said one Mukesh Rajbhar, who said he had come from Varanasi to attend the rally.
Reacting to Rajbhar's charges, BJP spokesperson Chandra Mohan said: "The BJP has done a lot for SC/STs and OBCs... There is no point reacting to individual claims."
Personalise your news feed. Follow trending topics