Not just Ram Temple on mind: Ayodhya's youth look for jobs, security and education
The dusty town of decrepit temples and mosques, and crumbling roads where cows and monkeys jostle for space appears to not have stepped into the 21st century.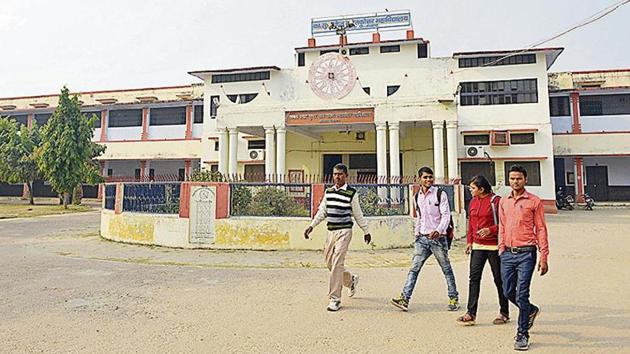 Updated on Dec 06, 2017 07:33 AM IST
Hindustan Times, Ayodhya | By Dhrubo Jyoti and Pawan Dixit
When she was younger, Shyama Sonkar spent every Republic Day before the TV to watch the parade and dream of a better future as a police officer. The 21-year-old travelled from her village in Uttar Pradesh's Faizabad district to Ayodhya town to fulfil her dream. Now a student at the Saket PG College, Sonkar says she wants to ensure safety for girls like her in a state that tops the country in crimes against women.
"I want to stand on my two feet and join the police," she adds. Around her, more young women nod. When asked about ambition, most echo Sonkar – police.
The dusty town of decrepit temples and mosques, and crumbling roads where cows and monkeys jostle for space appears to not have stepped into the 21st century. Public transport comprises stuffed "vikrams" and e-rickshaws that Sonkar and her friend Deepti Singh confess is a risk for women at night. Drains overflow into streets and travellers struggle to escape cow dung.
Educational institutions are few and opportunities are negligible. More than half of the 25-odd young men and women HT interviewed confessed to have dropped out of high school. "The youth here have so much potential. Their tragedy is lack of exposure," says Pradeep Khare, principal of Saket College.
Many young men are employed as touts, fixers and guides near the Hanuman Garhi temple, and man the 20-odd sweet shops that line the narrow street that leads to the temple. Everyone publicly exhorts support for the Ram Temple, but in private, some admit the only reason behind the support is the hope of jobs and a tourism boom. "Otherwise, I will die selling besan laddu," said a 25-year-old sweet shop worker who refused to be named. About two kilometers from the disputed site is a privately run coaching institute-cum-hostel housed in a battered, incomplete building . Inside, 50-odd young men live and study for college degrees and competitive examinations . "For me, health is the most important issue. We have no proper hospital and I want to change it," says Vikas Chaudhury, a BA second year student. His friend Abhishek Pandey interjects -- quotas and reservations are on top of his mind. Ayodhya houses around 240,000 people in one of India's more under-developed regions. The best health facility in town is a community health centre and the infant mortality rate in the district is almost double the national average, as per the last annual health survey 2012-13.
For many younger Muslims, peace and progress are primary worries. Mohammad Qadir Ansari, 24, works at a Hindu-owned shop selling sunglasses and spectacles. "The dispute must be solved by the people of Ayodhya," Qadir, a Class 8 drop-out, told HT. As he speaks, his friends converge and all are Hindus. Among them is Satyendra Yadav, 22, who finished a mechanical engineering diploma but is yet to find a job. "For me, jobs and development come first," Yadav said.
But the focus on jobs and education hasn't pushed Ram temple out of anyone's mind. Yadav and Khare both say they want the temple in addition to infrastructure. "Ram Mandir is emotive issue. Why cannot development and Ram Mandir follow each other in Ayodhya?" says Deepak Srivastava, 23 .
On the 25th anniversary of the demolition, though, civic polls and recently elected Ayodhya mayor Rishikesh Upadhyay dominate discussion. Outside the makeshift temple, now a fortress of soldiers and barbed wires, shopkeepers excitedly discuss results. "The flag of BJP is flying high," shouts one. "Now, finally some development may come to Ayodhya," hopes another.
Close Story