Pak hackers deface NSG website with derogatory messages
Hackers have breached into the official website of the country's elite counter terror and anti-hijack commando force National Security Guards (NSG).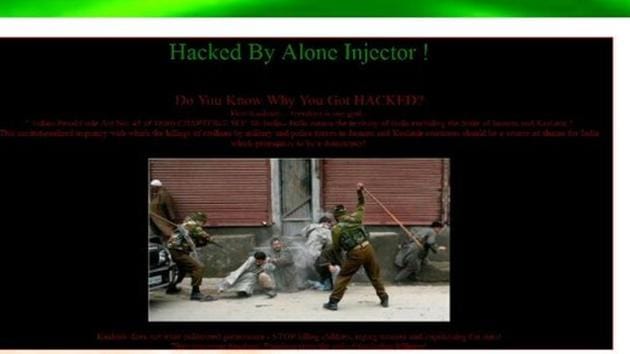 Updated on Jan 02, 2017 07:12 PM IST
A Pakistan-based hacker defaced the website of the National Security Guard (NSG), India's elite counter-terror and anti-hijacking commando force, with abusive messages on Sunday.
The hacker – who identified himself as 'Alone Injector' – was later revealed to be one Fareed Baloch. Cyber security experts said Baloch introduces himself by that title on his Facebook profile, and seems to be associated with Muhammad Bilal – a self-confessed Xploiters member from Islamabad.
Xploiters claims to be a team of top Pakistani hackers "well known for infiltrating high-profile infrastructures".
Cyber security experts said Baloch was earlier involved in defacing a government university website.
"Fareed Baloch put a mirror image of the defaced NSG website to show that he was the hacker involved in the act. Since the websites are resurrected immediately, defacers keep mirror images as evidence of their act," said Dhruv Soi, a cyber security expert.
Soi, director of cyber security firm Torrid Networks, said defacement was usually done by "immature" hackers for publicity. They usually strike on occasions such as year-end holidays, when there is minimal presence of staffers, he added.
"Serious hackers, on the other hand, go digging for sensitive information from cyber infrastructures by installing malware or similar tracking programmes in the system," said Soi.
The defacement of the NSG website was noticed on the intervening night of December 31 and January 1, and its URL — www.nsg.gov.in — was blocked immediately. Officials said authorities had uploaded very basic information about the commando force onto the website, keeping such cyber threats in view.
"We are working with experts from the National Informatics Centre, and corrective steps are being taken," an NSG official said on the condition of anonymity.
In a previous instance of cyber crime, the Twitter handle of Congress vice-president Rahul Gandhi was hacked by alleged political detractors. Indian and Pakistani hackers also fought pitched battles in cyber space after the Uri attack.
Close Story