Three labourers killed in coal cave-in at Odisha's Dhamra port, violence erupts
Bhubaneswar, Hindustan Times |
Debabrata Mohanty
Aug 15, 2017 09:03 PM IST
At least three labourers were killed and as many injured when a coal heap caved in at Dhamra Port Company Ltd (DPCL) premises leading to arson and violence at Dhamra in Bhadrak distric
Three labourers were killed and three others injured when a heap of coal in the stackyard of Dhamra Port in Bhadrak district caved in this afternoon. The death of the labourers triggered a violent protest with several workers torching vehicles and office presmises at the Dhamra port.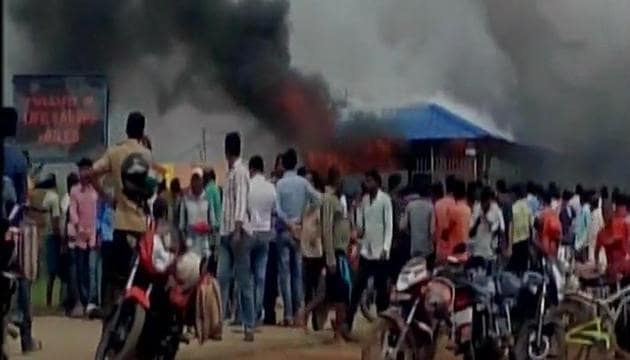 Bhadrak district collector Gyana Ranjan Das said the accident occurred when the labourers were covering the heap of coal at the port's stackyard to prevent it from getting wet in rains. Part of the heap containing high quality coking coal imported from Australia caved in burying the labourers underneath. Officials said three bodies have been recovered while three others are being treated at the Bhadrak district hospital.
The Dhamra port is owned and operated by the Adani group.
Soon after the accident, hundreds of labourers went on a rampage and torched the office of the port's security officer as well as several cars. Port CEO Subrat Tripathy too was heckled.
Bhadrak SP Anup Sahoo said the situation at the port was under control after deployment of five platoons of police.
The Adani group in a press release said it followed the highest and strictest standards of health and safety. "The safety of our thousands of employees and contractual labourers is Adani's top-most priority and we have a well planned safety training programme for our employees and those of contractors as well. We will investigate this matter fully and find out the exact reasons of this unfortunate accident," said the release.