Odisha hikes cash incentive for inter-caste marriage to Rs 1 lakh
Hindustan Times, Bhubaneswar |
Debabrata Mohanty
Aug 17, 2017 03:37 PM IST
Odisha SC/ST secretary Surendra Kumar told HT that the amount was increased to keep pace with the times.
The Biju Janata Dal government in Odisha has doubled the amount it gives as an incentive to men and women who opt to marry outside their caste to Rs 1 lakh from Rs 50,000 to encourage more such inter-caste marriages.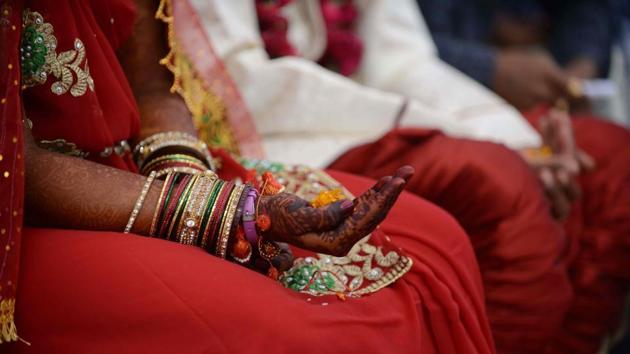 Officials said the amount would be given irrespective of the economic status of the marrying couple and has to be used to purchase land or household articles. At least 17% of Odisha's population are Dalits.
Stay tuned with breaking news on HT Channel on Facebook.
Join Now
Secretary to the state's ST & SC development, minorities & backward classes welfare department, Surendra Kumar, told the Hindustan Times the amount was increased to keep pace with the times.
"The last time Odisha raised the amount was Rs 50,000 from Rs 10,000 in 2007. Times have changed and inflation too," said Kumar.
"But, we are also aware that money alone would not propel people to opt for inter-caste marriage and end untouchability. Money is just an incentive. But it's education and awareness among the youths that would do the trick," said Kumar.
To get the incentive, both the couple will have to apply for a sanction of the grant and execute a bond in the form after receiving the grant. If the marriage ends in divorce within five years, the recipients will have to refund the entire amount within a year failing which principal an annual interest of 6.5% would be levied.
The proposal to encourage inter-caste marriages was first discussed in the meeting of the Scheduled Caste Welfare Advisory board in June 2015 under the chairmanship of chief minister Naveen Patnaik.
Officials said between 2010 and 2016 over 4100 couples in Odisha have been given cash incentives for inter-caste marriage. However, experts said the cash incentive has failed to change the age-old mindset of people who have been resistant to the change.
Dalit rights activist Manoj Jena said such incentives alone cannot lead to more inter-caste marriages as the real problem lies in the failure of prosecution of those accused in cases involving Dalits.
"The prevention of atrocities cases over violent incidents involving Dalits should be tried as quickly as possible. That would lead to a sense of safety among those opting for inter-caste marriage. Inter caste social mobility is not possible without a social relationship," said Jena.
Other states such as Bihar, Haryana, Himachal Pradesh, Punjab, and Rajasthan also have similar schemes. The Union ministry for social justice and empowerment provides Rs 250,000 lakh per marriage under the Dr Ambedkar Scheme for Social Integration through Inter-Caste Marriage.
Rajasthan is the only state which gives Rs 5 lakh for couples opting for an inter-caste marriage.
The Supreme Court in 2011 held that inter-caste marriages were in the national interest "as they will result in destroying the caste system". It held that diktats by the "khap panchayats" aimed at coercing or committing atrocities on young men and women who wish to marry inter-caste/religion were illegal and should be stamped out.
Though instances of inter-caste marriage are gradually on the rise, it is still considered a taboo in India and many a time such marriages face hostile reaction.