Opposition says Mamata wants total control as 15 killed in Bengal panchayat polls violence
Violence during Bengal panchayat elections unfolded hours after chief minister Mamata Banerjee told two prominent Bengali television channels that her government wants peaceful polling and asked people not to give in to provocations.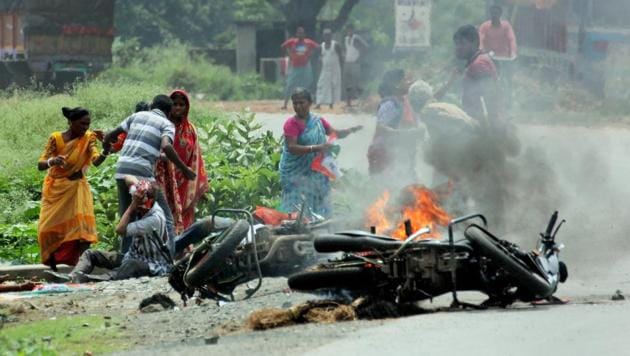 Updated on May 14, 2018 11:30 PM IST
Opposition parties in West Bengal on Monday blamed chief minister Mamata Banerjee's prime ministerial ambitions for the violence that blighted voting for the panchayat elections and left 15 people dead.
The Union home ministry sought a report from the state government on the violence. The Trinamool Congress was accused of perpetrating violence in all the districts, though the deaths were reported from seven of them. The state election commission, which was ordered by the Calcutta high court and the Supreme Court last week to ensure free and fair polling, faced the ire of voters and opposition parties for failing to carry out the orders.
In 2003, 76 people were killed and 2013's death toll was 39. But Monday's polling stood out for unprecedented rigging, booth capturing and burning of ballot papers right in front of the media and, in some places, even in the presence of policemen.
"The number of deaths this year was far fewer than those in earlier years. We tried our best to achieve a completely peaceful election. But despite our efforts a few sporadic incidents and death took place," said Director General of Police Surajit Kar Purkayastha. The DGP confirmed the deaths of 12 people in the violence , according to news agency ANI.
The violence unfolded hours after the chief minister told two prominent Bengali television channels that her government wants peaceful polling and asked people not to give in to provocation.
Bengal Congress president Adhir Ranjan Chowdhury alleged that the violence was the outcome of Mamata Banerjee's ambition to emerge as the face of the so-called third front ahead of the 2019 Lok Sabha elections.
"Trinamool's victory was always assured because of sheer numbers. Hence, people should have been allowed to cast the ballot. But Banerjee wants to demolish the opposition completely. She wants to win all the 42 Lok Sabha seats next year so that she may emerge as a strong contender in the race for the prime minister's chair," said Chowdhury, the Berhampore Lok Sabha MP from Murshidababd district which was a Congress bastion till five years ago.
Banerjee is yet to issue a statement on the violence.
But Trinamool Congress secretary general and education minister Partha Chatterjee maintained that polling was largely peaceful.
"Polling took place in 41,000 polling stations. Apart from a few sporadic incidents, polling was peaceful. Trinamool Congress, as a party, never wants or supports such incidents. The state government provided support to the SEC with as much as possible," he said.
"Our party supporters were beaten up too. But they kept their cool. Six of our party supporters were killed today. Some other parties are claiming that their supporters were killed, which is not true," Chatterjee said.
Others differed.
Former principal of Presidency College (now a university) and political scientist Amal Mukherjee said the situation called for invoking President's rule under Article 356 of the Constitution.
"On Sunday, Banerjee assured the people that they could cast their votes without fear because adequate security arrangements had been made. Her assurances have not yielded any result. It is a shame for the ruling party. There is no democracy at all in Bengal. This is nothing but fascism," said Mukherjee.
Union minister of state for heavy industries Babul Supriyo also demanded President's rule in the state. "Democracy has been murdered," he alleged.
Manoj Bhattacharya, RSP national secretariat member and former MP said the violence was indicative of the CM's desire for total control.
"There used to be electoral violence even when we were in power but I can't remember ballot papers being looted or burnt across Bengal or opposition candidates in each and every village stopped from filing nomination. This anarchy has stemmed from Mamata Banerjee's aspiration to establish absolute control," alleged Bhattachaya.
"Our booth-level workers are telling us not to demand repoll. They say there will be more violence. With Supreme Court keeping on hold the fate of 34% seats till July 3, Trinamool is desperate to win the remaining 66 % seats," he said.
"Democracy turned into a face today," said Left Front chairman and CPI (M) Politburo member Biman Bose who sat on dharna outside the state election commission's office along with CPI(M) state secretary Suryakanta Mishra.
The government's decision to deploy civic police volunteers - it is an informal force raised to generate employment - to secure polling stations also came under question. On Monday, there were 81,000 civic police volunteers on duty, about 10,000 more than uniformed policemen. In 2013, when the rural polls were held in five phases, more than 80,000 Central police and paramilitary personnel were deployed in Bengal.
Food minister Jyotipriyo Mullick alleged that BJP leaders brought hundreds of people from Bangladesh and sheltered them in different areas of North 24 Parganas district after villagers caught a few toughs who stormed a booth in Bagda early in the morning.
"If so many people came from Bangladesh, why did the administration fail to catch a few of them?" asked BJP state president Dilip Ghosh.
Close Story
Personalise your news feed. Follow trending topics