Over 12,000 sexual assault cases pending due to backlog at forensic labs
Updated on Apr 26, 2018 10:52 AM IST
Only three of the six central forensic science laboratories in India have the facility to test DNA samples.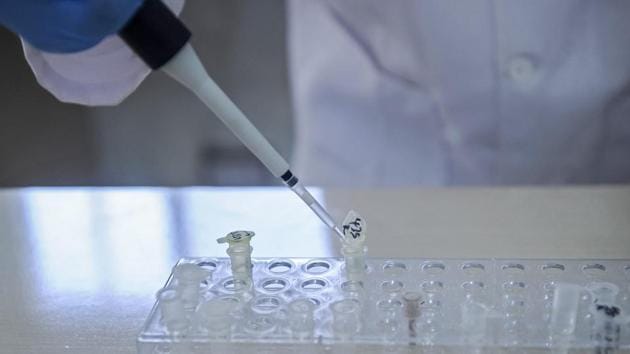 At a time when crimes against women are rising sharply, thousands of forensic DNA samples, which could form crucial evidence in serious crimes such as rape and murder, are lying unexamined across the country due to a shortage of DNA labs, according to government data.
The shortage of well-equipped, hi-tech laboratories and inadequate staff strength have resulted in 12,072 DNA samples from as many sexual assault cases piling up in three of the six central forensic science laboratories (CFSLs) across India till December 2017, where they await examination, according to Directorate of Forensic Science Services (DFSS) data reviewed by Hindustan Times.
Only three of the six labs — in Chandigarh, Hyderabad and Kolkata — have facility to test DNA samples.
"Between them, they can only handle 600 cases a year. Also, there are about 30 forensic DNA experts in the labs," said a Union home ministry official who asked not to be named.
DNA profiling is a technique where individuals can be identified at a molecular level and can often lead to breakthroughs in cases where other non-scientific investigative methods fail.
"DNA reports are a strong tool for the judiciary and investigating agencies to link the sequence of crime scene, the accused and victims. Such reports can also help exonerate a suspect who has been wrongly convicted suspect," said the official quoted above. Investigating agencies and courts are increasingly demanding examination of forensic evidence to solve heinous crimes such as rape, child abuse and murder. Delay in concluding forensic examination inevitably prolongs investigations in such cases, which leads to a delay in justice.
According to the data available till December 2017, the region-wise pendency of sexual assault cases against women in the northern region was the highest at 6,869.
In the western region, 3,339 cases were pending because of the paucity of forensic labs. It was to address this acute shortage that the Union home ministry early this month gave the go-ahead for setting up of a stateof-the-art DNA laboratory in Chandigarh, which will have a capacity to test 2,000 samples per year.
"The ₹93 crore project will be financed through the Nirbhaya Fund set up in 2016," said Women and Child Development secretary Rakesh Srivastava.
Administered by the WCD ministry, the ₹3,000 crore corpus was set up in 2013 to support initiatives to bolster safety and security of women.
Besides the six CFSLs, there are 31 state forensic science laboratories. Of these, 16 have the facility to test DNA samples but officials say that only the Delhi state lab has adequate capacity to meet demand.
"In the present scenario, demands of various honourable courts of law are not fulfilled by the existing forensic set-up of DNA laboratories due to lack of high-tech infrastructure," said a report presented at a meeting last month, which was attended by officials of the WCD and home ministries.
Personalise your news feed. Follow trending topics