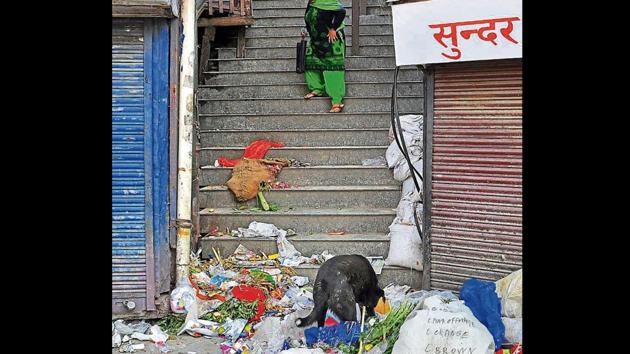 Over 900 garbage collectors go on strike, leaving Shimla to stink
Arrangement: Mayor says collection points have been set up at each ward for the disposal of waste.
UPDATED ON MAY 02, 2018 01:29 PM IST
More than 900 garbage collectors in Shimla went on indefinite strike on Tuesday, leaving the town to stink with trash strewn across every nook and corner. The garbage collectors had been seeking regularising of jobs and demanding their wages be enhanced by at least 30%.
Garbage was seen scattered on the streets of Shimla's busy lower bazaar, adjoining the Mall Road, while the condition in other wards was no different. Residents ended up throwing trash near dumpers and nullahs.
The Shimla municipal corporation (MC) had in 2009 formed a society, SEHB, to make the town litter-free. The MC had even recruited sanitation workers for door-to-door garbage collection. Ward-level committees to collect solid waste were formed, which began their operations in April 2010. Majority of SEHB workers earned Rs 6,700 to Rs 7,700 per month, by charging Rs 70 per month from each household under their respective areas. The rates for different establishments varied up to Rs 2,500 per month.
These rates were approved in the annual general meeting of the society in 2014. However, 2015, it was decided in the meeting to enhance these rates but it never got implemented. The society can be deemed defunct since annual general meeting did not take place in 2016. From door-to-door collection, SEHB society earned around Rs 29-30 lakh per month, while the salary bill was around Rs 40 lakh.
"The civic body is not willing to accept our demands and we are forced to resort to strike. We get a paltry sum of Rs 7,000 per month, which is not enough for us," said Jaswant Singh, a SEHB representative. "If the government can increase salaries of officers, why cannot it increase the salary of poor people like us?" he questioned.
SEHB workers also accused MC and urban development department of ignoring their health, saying authorities did not provide gloves and carry bags to collect garbage.
The town generates around 85 metric tonnes of garbage every day.
However, Mayor Kusum Sadret urged the garbage collectors to call off their strike but to no avail. "Optional arrangements have been made by the MC to tackle the issue. Three to four connection points have been set up in every ward where residents can dump the waste," she said.
Sadret denied that employees on strike had informed about their decision in advance. Meanwhile, councillor Shelli Sharma blamed it on the previous Congress government.
Close