INX Media case: Chidambaram sent to Tihar jail for 14 days, will get a separate cell
Hindustan Times, New Delhi |
Richa Banka and Bhadra Sinha
Jun 26, 2020 08:35 PM IST
Chidambaram's offer to surrender before Enforcement Directorate was high on symbolism, particularly since the Supreme Court had already rejected his request for pre-arrest bail in the INX Media case being investigated by the ED.
Former finance minister P Chidambaram and his legal team suffered a blow on Thursday when a Delhi court sent him to 14 days' judicial custody in Tihar jail in the INX Media corruption case, declining to free him on bail after he completed 15 days in the custody of the Central Bureau of Investigation (CBI) .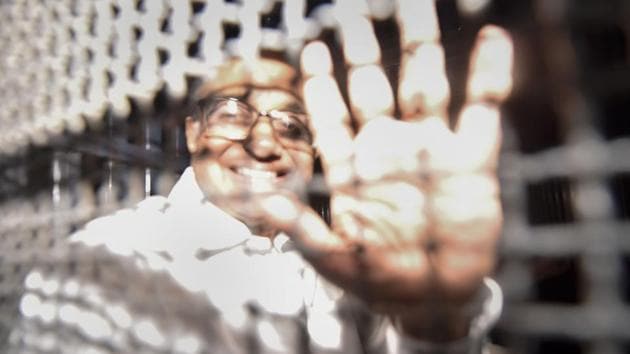 Special judge Ajay Kumar sent Chidambaram to Tihar until September 19, but said that given the fact that the Congress politician is protected by Z Category security, he should be kept in a special cell. The judge also allowed Chidambaram, 73, a Rajya Sabha member, to carry his prescription medicines to jail.
His ruling came hours after a Supreme Court bench comprising R Bhanumathi and AS Bopanna denied Chidambaram bail in a case of money laundering being probed by the Enforcement Directorate (ED) in connection with INX Media. The apex court told Chidambaram's legal team that granting him anticipatory bail could frustrate the investigation and maintained that his custodial interrogation was necessary in the case.
Watch: Former FM Chidambaram sent to Tihar jail after court rejects bail in INX case
"Grant of anticipatory bail, particularly in economic offences would definitely hamper the effective investigation. Having regard to the materials said to have been collected by the respondent Enforcement Directorate and considering the stage of the investigation, we are of the view that it is not a fit case to grant anticipatory bail," the Supreme Court bench said.
"Having regard to the nature of allegations and the stage of the investigation, in our view, the investigating agency has to be given sufficient freedom in the process of investigation," the bench said in its 57-page judgment.
However, the top court was critical of the Delhi high court judge who had delivered the August 20 verdict denying him anticipatory bail for quoting "verbatim" a note produced before him by ED, and said it was "not a correct approach for consideration of grant/refusal of anticipatory bail".
In a last-ditch effort on Thursday to convince the special judge to keep Chidambaram out of Tihar jail, his legal team said he was even ready to be arrested by the ED, which could take him into its custody to question him.
Appearing for the CBI, solicitor general Tushar Mehta told the court that Chidambaram was an influential person in public life, wielded substantial sway over witnesses and there existed potential for tampering with the evidence.
He said letters of request had been sent to overseas jurisdictions seeking information in connection with the case and alleged that Chidambaram had used his influence to ensure that the investigating agency did not get the information it had sought.
Countering the submissions, Chidambaram's lawyer Kapil Sibal said that there was no justification for sending his client to judicial custody. He submitted that CBI had not brought anything on record to even suggest that the former minister had ever tried to influence witnesses or interfere in the investigation.
With the top court's order in its favour, the ED can arrest him any time. But the ED decided against making its move on Thursday, leaving special judge Kuhar with two options: to release Chidambaram on bail or remand him to judicial custody.
Judge Kuhar ruled in favour of sending him to Tihar. "Considering the facts and circumstances of the case, nature of offences, stage of investigation, the accused is remanded to judicial custody," the judge ordered.
The judge had heard both sides argue on Chidambaram's next stop for a little over 30 minutes before he reserved his order. As the two sides waited for him to return with his verdict, Chidambaram looked tired. Like always, he had been standing in the suspect's box as he waited for the judge to return.
A court staffer brought him a chair. It wasn't the first time that Chidambaram had been offered a chair but he had always, pointedly and firmly, declined. Today, he decided to sit down.
His team had been prepared for the verdict, and quickly moved requests.
Lawyer Kapil Sibal started with a request that Chidambaram be allowed to carry his spectacles and prescribed medicines to Tihar jail. Chidambaram, who has been the country's home minister, also requested a separate cell with a bathroom in light of concerns over his security. The judge accepted these two sets of applications. On the third - a formal request to surrender to the ED - the judge issued notice to the agency to make its position clear.
Chidambaram is likely to be housed in Tihar's Jail No. 7, where usually those accused in Enforcement Directorate cases are kept, PTI reported.
Chidambaram has already spent 15 days in the custody of the CBI in five separate spells, after his arrest from his Jor Bagh home in New Delhi on August 21.
He was arrested after the Supreme Court didn't accept his request to urgently hear his pleas for anticipatory bail in the INX Media case
The CBI is probing alleged irregularities in the grant of Foreign Investment Promotion Board (FIPB) clearance to INX Media for receiving foreign investment to the tune of ₹305 crore in 2007, when Chidambaram was finance minister in the Congress-led United Progressive Alliance (UPA) government. CBI registered an FIR in the case on May 15, 2017.
INX Media co-founders Peter Mukerjea and his wife Indrani Mukerjea have been charged with entering into a criminal conspiracy with Karti Chidambaram, P Chidambaram's son, to secure clearance from FIPB for the foreign investment received by the company and evade punitive measures for not having the requisite approvals.
Indrani Mukerjea told CBI in March last year that a deal of $1 million had been struck between Karti Chidambaram and the Mukerjeas to secure approval from the FIPB in favour of INX Media.
The Chidambarams did receive a measure of relief when special judge OP Saini granted them protection from arrest by the CBI and the ED in the 2006 Aircel Maxis on Thursday.
The judge said the two would be released on a ₹1 lakh bail bond in case either of the two agencies arrested them in the case.
The Aircel Maxis case refers to a 2006 investment in Indian telecom company Aircel Ltd by Malaysia's Maxis Communications Bhd. which, the CBI says, was in violation of the then prevailing foreign investments laws.
The CBI alleged that P Chidambaram had cleared an investment of $800 million in Aircel by Maxis although it was the cabinet committee on economic affairs that was the competent authority to grant such approval. This was done by wrongly projecting the deal as merely involving an investment of ₹180 crore, according to the CBI, which alleged that money had been paid to a company controlled by Karti Chidambaram in return.
The Chidambarams have denied all the allegations against them in both the INX Media and Aircel Maxis cases and in turn said the National Democratic Alliance government was waging political vendetta against them.
"As I have been saying it's a non case. Been dragged into only due to political vendetta. I have no connection to Aircel Maxis or to FIPB. I had an Aircel sim though :) and in time this INX bogey will also be slayed," Karti Chidambaram wrote on Twitter.