Pak funding of Kashmiri separatists: NIA looking to turn an accused into approver
NIA asked the son of Hurriyat Conference's Syed Ali Shah Geelani to join the investigation.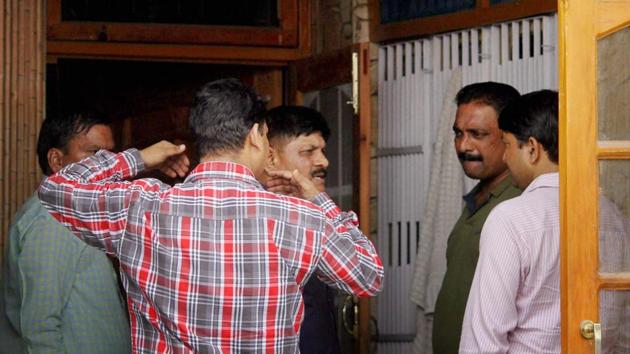 Updated on Jul 31, 2017 09:02 AM IST
The National Investigation Agency (NIA) is working on making one of the seven accused, who were arrested on charges of getting Pakistani funding to fuel violence in the Valley, an approver in the case.
"We are working in this direction on one of the accused. The accused who turns approver will be given pardon by the court if his confession is found honest and truthful. An approver will give us a firm legal footing in the case, corroborate witness statements and technical evidence to prove our case," said a senior NIA official on the condition of anonymity.
The agency further tightened screws on Hurriyat Conference hawk Syed Ali Shah Geelani by asking his son Nayeem to join investigation in the case on Monday in Delhi. It is the second time that Nayeem has been issued formal summons to join the probe.
The NIA on Sunday also conducted searches at the premises of a close Geelani aide Devender Singh Behal in Jammu.
"Behal is considered a close confidant of Geelani. It is suspected that he used to act as a personal courier for Geelani. He has visited the Pakistani high commission many times," said an NIA official on the condition of anonymity.
In a formal statement, NIA Inspector General Alok Mittal said Behal's JKSPF is a constituent of the All Parties Hurriyat Conference (APHC) faction led by Syed Ali Shah Geelani and he is a member of the legal cell of the Hurriyat.
"He is a close associate of a top Hurriyat leader and regularly attends funerals of militants. The NIA is investigating his role as a courier as he is suspected to be involved in routing funds to the separatist leaders from Pakistan-based handlers," Mittal added.
During the searches, the NIA team recovered four mobile phones, a tablet, other electronic devices, incriminating documents, financial papers and some other articles.
Behal was questioned by NIA sleuths at the time of searches and was then allowed to go. But he will be formally summoned to join the probe soon, said sources.
The NIA is also gearing up to file the first chargesheet in the case within the next month.
Sources said the agency's probe against the first seven arrested accused is almost complete. A chargesheet early in the case will ensure no arrested accused gets bail easily from the court.
The NIA is probing charges that Hurriyat leaders get funding from terror outfits in Pakistan to fuel violence in the Valley that includes acts of burning of schools and paying money to stone pelters.
(with inputs from HTC, Jammu)
Close Story
Personalise your news feed. Follow trending topics