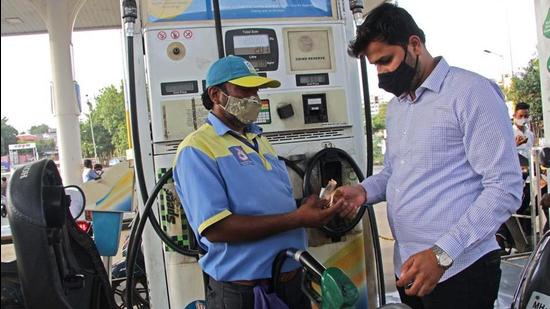 Petrol price jumps 30 paise/litre on Saturday, diesel price remains unchanged
Petrol prices have already crossed
₹
100 per litre in five metros – Delhi, Mumbai, Chennai, Kolkata and Bangalore.
By Rajeev Jayaswal
PUBLISHED ON JUL 17, 2021 10:02 AM IST
Petrol prices rose by 30 paise per litre on Saturday, the 41st hike in 75 days that made the transport fuel costlier by ₹11.44 a litre since May 4, a day after results of five assembly polls were declared.
The diesel price remains unchanged as it was spared a hike for the third time since July 2 apart from the 16 paise/litre reduction seen on July 12, the first since May 4. However, several hikes in about two-and-a-half months have made Diesel costlier by ₹9.14 per litre since May.
After the latest hike, petrol in Delhi is priced at ₹101.84 per litre, and diesel at ₹89.87. While fuel rates of state-run Indian Oil Corporation (IOC) in Delhi are the benchmark for the entire country, retail prices of the two fuels differ from place to place because of variations in state taxes and local levies.
Petrol prices have already crossed ₹100 per litre in five metros – Delhi, Mumbai, Chennai, Kolkata and Bangalore.
The cost of one litre petrol in Mumbai is now ₹107.83 and diesel, ₹97.45. The highest fuel rates have been recorded in Rajasthan's Ganganagar where pumps are selling petrol at ₹113.21 per litre and diesel at ₹103.15 a litre.
Surging international oil rates and the high domestic tax structure are two key reasons for steep rates of petrol and diesel in Indian cities.
International oil prices showed extreme volatility since Monday last week (July 5) when Brent crude jumped to $77.16 a barrel, its highest since October 2018 due to supply concerns. However, the recent compromise between two factions of producers' cartel -- the Organisation of the Petroleum Exporting Countries and its allies, including Russia (together known as OPEC+) – over supplies pulled down crude prices by $3.57 or 4.62% to $73.59 a barrel at the end of this week's close on July 16.
While international oil prices impact pump rates of auto fuels because India imports more than 80% crude it processes, steep taxes are the other reason for high rates of petrol and diesel.
In Delhi, central levies account for 33.29% of petrol's price and state taxes, 23.07%, according to an official data of July 1. On diesel, Central taxes are over 35.66% while state taxes are about 14.62%. Through 2020, as global crude prices fell, the central government raised excise duty on the fuel to shore up its finances. States too followed suit -- with revenues hit on account of the pandemic.
Some of the cities selling petrol for over ₹100 per litre are Delhi, Mumbai, Ratnagiri, Parbhani, Aurangabad, Jaisalmer, Ganganagar, Banswara, Indore, Bhopal, Gwalior, Bengaluru, Guntur, Kakinada, Chikmagalur, Shivamogga, Hyderabad, Leh, Imphal, Kalahandi, Sopore, Baramulla, Patna, Kolkata, Salem, Chennai, Thiruvananthapuram, Mohali, Darjeeling, Dantewada and Kohima.
The government deregulated the pricing of petrol on June 26, 2010 and diesel on October 19, 2014. Accordingly, state-run retailers are free to change pump prices every day. Public sector retailers — IOC, Bharat Petroleum Corporation Ltd (BPCL) and Hindustan Petroleum Corporation Ltd (HPCL)—control almost 90% of the domestic fuel retail market.
Close