'Plan bee' keeps elephants off railway tracks in Assam
Nov 24, 2017 07:50 PM IST
Growing man-animal conflict including train accidents has resulted in deaths of 225 jumbos in Assam between 2006 and 2016.
The railways have deployed "plan bee" after plan A to prevent trains from hitting elephants crossing tracks didn't succeed.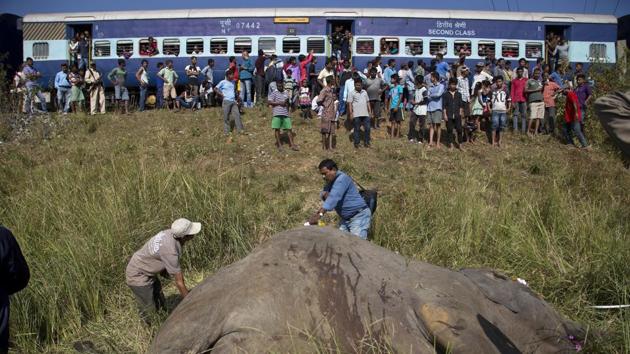 The Northeast Frontier Railway (NFR) has put a device that amplifies the buzz of swarming honeybees, a natural nemesis of elephants. The test is conducted near tracks along corridors frequented by wild herds. The experiment seems to be working.
NFR data say train-hits killed 16 elephants in 2016, and at least half a dozen this year.
Wildlife officials said elephants, despite their thick skin and size, are terrified of bees. Such is the dread, particularly of being stung on the sensitive trunk that a "bee alarm" goes off in an elephant's head with the slightest of buzz.
Unlike Kenya, where boutique beehives are dangled from fences to keep the jumbos away, the NFR's Rangiya Division, about 65km northwest of Guwahati, came up with the electronic "buzzer" to keep the animals at bay.
Elephant experts had tried jumbo-repulsion techniques such as chili bomb and electric fence. But these are not quite effective and cost-efficient.
"It is a simple device that amplifies the recorded sound of honeybees downloaded from the Internet. Our officials discussed the idea with forest officials and tested the device on elephants in the jungles before we installed it near three notified elephant corridors in our division," Rangiya divisional railway manager Ravilesh Kumar said.
The device, which costs around Rs 2,000 to put together, is audible to an elephant 600 metres away.
The first of this device was installed at a level crossing between Kamakhya and Azara railway stations near Guwahati two months ago. The crossing is a few metres from one of 27 elephant corridors under NFR, which covers northern West Bengal and parts of eastern Bihar besides the northeastern states.
"The buzzing sound is in a frequency the elephants do not like. The device has prevented the animals from approaching the tracks at least five times, but we have instructed employees near elephant corridors to use the device only if the elephants come when trains are approaching," Kumar said.
Railway officials said NFR's general manager Chahatey Ram, enthused by the success of the device, wants it installed along railway tracks even in non-notified elephant corridors.
"Elephants searching for food cannot be stopped from crossing tracks, but the device can help us minimize fatalities," NFR spokesperson Pranav Jyoti Sharma said.
According to the Assam forest department's 2011 census, there are an estimated 5,620 elephants in the state. Train-hits included, 225 elephants died in Assam between 2006 and 2016 because of growing man-animal conflicts.