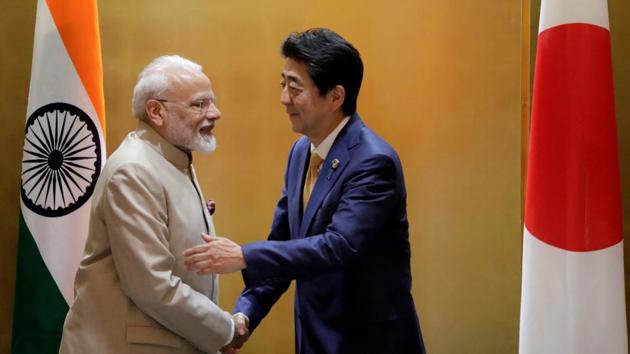 'You were the 1st to call me': PM Modi to Japan PM on G20 sidelines
This will be Prime Minister Modi's sixth G20 Summit which is being held at Osaka on June 28-29.
UPDATED ON MAY 26, 2020 09:05 AM IST
Prime Minister Narendra Modi started his G20 visit with a meeting with Japanese PM Shinzo Abe on the sidelines of the Summit after his arrival in Japan on Thursday. Two leaders discussed broad range of topics of mutual interest, said MEA spokesperson Raveesh Kumar.He will also meet US president Donald Trump, French president Emmanuel Macron apart from other top global leaders for the first time after re-election.
Prime Minister was congratulated for his stellar poll victory by Shinzo Abe. Abe said that it was 'his turn' to 'visit India' and he was 'looking forward to it'. Prime Minister Modi thanked Japanese PM for the compliments while acknowledging that Abe was the first to call after his victory. "...you were the first friend of India who congratulated me, on phone. I also express my gratitude for the warm welcome you and Japan Government have accorded to us." PM said.

The G20 Summit, which is being held at Osaka between June 28 and June 29, is Prime Minister Modi's sixth.
Watch| PM Modi meets Japan PM Shinzo Abe, discusses India-Japan ties
During his many meetings; he is expected to elaborate on many issues of global importance and present India's viewpoint," prime minister's office had tweeted when he reached Japan.
The Prime Minister said before leaving for Osaka that issues such as women empowerment, artificial intelligence and common efforts to address challenges like terrorism will be high on his agenda.
"The summit will provide an important opportunity to reiterate and reinforce our strong support to reformed multilateralism, which is crucial for preserving rule-based international order in today's fast-changing world," Modi said.
He said that the G 20 Summit will also be a platform for sharing India's strong developmental experience of the last five years, which provided the basis for a resounding mandate by the people of India to the government to continue on the path of progress and stability.
Also Read | Xi Jinping to attend G20 summit, set to meet Donald Trump to end trade war
The Osaka summit, he said, will also be an important stepping stone for India towards hosting the G20 summit in 2022 "when we usher in a New India in the 75th anniversary year of our Independence".
Bilateral meetings
On the sidelines, Modi said, he "looks forward to engaging with leaders of our major partner countries on important issues of bilateral and global importance.
Modi will also join separate meetings of the Russia-India-China (RIC) and Japan-America-India (JAI) trilateral forums while attending the summit in Osaka, people familiar with developments said. The inaugural meeting of JAI was held in Buenos Aires last year.
Modi will hold some 10 bilateral meetings on the sidelines of the G20 Summit, including one with Turkish President Recep Tayyip Erdogan.
"I also look forward to host the next Russia, India and China (RIC) Informal Summit on the sidelines, and also to participate in the next informal meetings of the BRICS (Brazil, Russia, India, China and South Africa) and JAI (Japan, America and India) leaders," he added.
Modi and Trump had agreed on the bilateral meeting when the United States president called the Indian leader last month to congratulate him on his re-election.
No agenda has been announced for the Modi-Trump meeting but the two leaders can be expected to discuss trade, which has emerged as the key irritant between the two sides that have otherwise seen growing convergence on a host of issues, including strategic ties with an emphasis on a free and open Indo-Pacific, defence cooperation and counter-terrorism.
US secretary of state Mike Pompeo's visit set the stage for a bilateral meeting between Modi and Trump as India and the US on Wednesday agreed to work through differences on trade issues and New Delhi's arms purchases from Russia.
Also Read | India, US vow to work as friends to resolve issues
Pompeo, who is on a visit to India, adopted an "accommodative" and "very problem-solving" stance at meetings with India's top leadership, people familiar with the developments said.
India's concerns about US threats of sanctions on the $5.2-billion deal to procure S-400 missile defence systems from Russia, trade-related differences, tensions in the Persian Gulf, and the Indo-Pacific figured in Pompeo's discussions with Prime Minister Modi and external affairs minister S Jaishankar.
Trade will be high on Trump's agenda and a senior US administration official said there will be "tremendous focus" on issues such as "state-directed economic activity, IP theft, forced technology transfer…(and) tariffs and non-tariff barriers".
The official added, "We believe the G20 economies need to work together to advance open, fair, and market-based digital policies, including the free flow of data."
India wasn't named though its proposed e-commerce and data localisation rules have been criticised by the US.
Argentina, Australia, Brazil, Canada, China, the European Union, France, Germany, India, Indonesia, Italy, Japan, Mexico, Russia, Saudi Arabia, South Africa, South Korea, Turkey, the UK and the US form the G20.
(With agency inputs)
Close