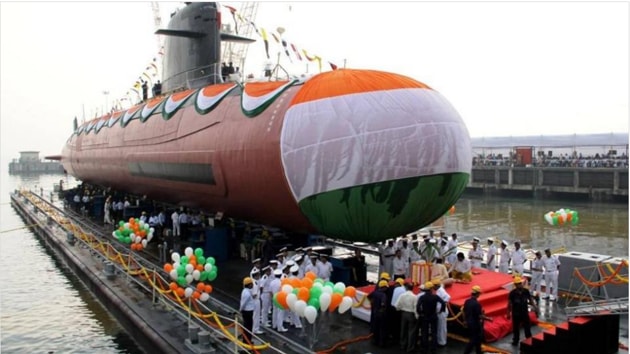 PM Modi to commission INS Kalvari, India's first Scorpene submarine, today
The INS Kalvari underwent around 120 days of extensive sea trials and tests for various equipment.
UPDATED ON DEC 13, 2017 11:51 PM IST
Prime Minister Narendra Modi will commission India-built INS Kalvari into the navy at Mumbai on Thursday, the first conventional submarine to join the fleet in 17 years, the government announced on Wednesday.
The navy commissioned INS Sindhushastra in July 2000 but the Kilo class submarine was imported from Russia. The Kalvari will join the Indian fleet after a five-year delay.
It is the first of the six Scorpene class submarines being built at Mazagon Dock Shipbuilders Limited, Mumbai, with French help under a ~23,562-crore programme called Project-75. The remaining five submarines will be inducted by 2020. The second Scorpene class submarine, Khanderi, is under trials and will be commissioned soon.
Read: All you need to know about navy's first Scorpene submarine
The Kalvari will be commissioned barely a week after the Golden Jubilee celebrations of the navy's underwater arm. The new Kalvari, a diesel-electric attack boat, is named after the first of the eight Foxtrot class submarines commissioned into the navy on December 8, 1967. A navy spokesperson confirmed that the commanding officer of the old Kalvari, Commodore KS Subra-maniam (retd), will attend the commissioning ceremony.
There's a tradition in the navy to name new ships after their well-known predecessors. The old Kalvari, named after the Tiger Shark, served the navy for almost three decades before it was retired in 1996.
Project-75 represents a significant success for the "Make in India" initiative, a government spokesperson said. He added the PM would undertake a visit of the Kalvari after dedicating the submarine to the country at the Naval Dockyard.
The navy was planning to equip the Scorpene class boats with Black Shark torpedoes from Whitehead Alenia Sistemi Subacquei (WASS), a subsidiary of Italian defence conglomerate Finmeccanica (now Leonardo).
The plan did not materialise as India banned Finmeccanica from taking part in future military tenders in 2014 after its UK-based subsidiary AgustaWestland faced bribery allegations in the Rs 3,727-crore VVIP chopper deal. The Kalvari is now equipped with German SUT torpedoes.
Building a modern conventional submarine is a complex job that can take up to five years. Navy data shows it takes more than 2.5 million man hours to assemble a submarine, involves half a million assembly parts, more than 1,600 suppliers and 108 systems.
Documents running into 22,400 pages reportedly detailing the combat capabilities of the Scorpene class submarines were leaked last year. The leak could prove an intelligence bonanza for India's rivals such as Pakistan or China, The Australian newspaper in August 2016. However, after conducting a detailed probe, the navy concluded that the data leak did not compromise the Indian programme.
Close