PM Modi to hold talks with US President Donald Trump in Washington DC on June 26
Updated on Jun 13, 2017 12:18 AM IST
Prime Minister Narendra Modi will hold talks with President Donald Trump on June 26 on a range of issues, including India's concerns over possible changes in H-1B visas.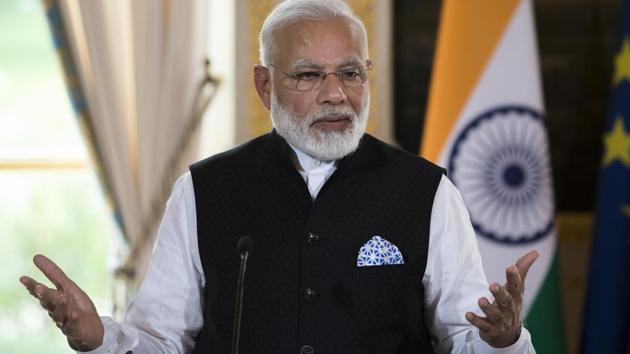 Prime Minister Narendra Modi and President Donald Trump will meet for the first time on June 26 during the Indian leader's two-day visit to the United States, with their discussions expected to set the agenda for strengthening the bilateral strategic partnership.
"Their discussions will provide a new direction for deeper bilateral engagement on issues of mutual interest and consolidation of multi-dimensional strategic partnership between India and the US," the Indian external affairs ministry said in a statement on Monday.
The White House said the leaders can be expected to set forth a "common vision" for expanding the US-India "partnership" in an "ambitious and worthy way".
President Trump looks forward to "advancing our common priorities — fighting terrorism, promoting economic growth and reforms and expanding security cooperation in the Indo-Pacific region", White House press secretary Sean Spicer told reporters.
Terrorism is expected to figure significantly on the agenda of both countries, according to officials and experts. The issue of America's H-1B visas for highly skilled foreigners could be next for India, and trade for the US.
The US has emerged as a top arms supplier to India and the two sides will be looking to move forward with deals such as unarmed drones that India wants for its navy, Reuters reported citing sources in New Delhi.
Equally important, the two leaders, who have spoken three times on phone since Trump's election last November, will use the meeting to strike a personal rapport for the future. Their officials have met and interacted over phone multiple times.
The US withdrawal from the Paris climate accord and Trump's harsh remarks could come up, but Indian officials have said that climate change was never going to figure prominently in discussions with this White House, knowing where it stands on the issue.
Monday's announcement ends speculation about the timing of Modi's visit, which had been known for a while but had remained officially unconfirmed and unannounced by both sides for an unusually protracted period of time.
New Delhi has indicated in news reports in the run up to the announcement it would discuss terrorism as it has in all interactions with the Trump administration, including during National Security Adviser HR McMaster's recent visit to India.
Also expected to be brought up by India will be H-1B visas for highly skilled foreigners that US companies are allowed to hire abroad and at home, which have come under close scrutiny by the Trump administration, with Indian IT firms in the crosshairs.
The Trump administration has tweaked some rules to redefine "speciality occupations", raising the bar for those qualifying for H-1B high-skilled jobs, suspended premium processing of applications, and issued warnings against misuse.
Through an executive order, Trump has sought a comprehensive review of the visa system to make sure it is used to hire "most-skilled and highest-paid applicants" and did not cause the loss of jobs for Americans.
To stave off further attention and punitive measures, Indian IT companies have announced plans to significantly ramp up hiring of locals. Infosys, for instance, is building a tech hub in Indianapolis that will create 2,000 jobs.
The fight against terrorism, which has been high on Trump's agenda, will be on the table from the US side as well, continuing the discussions with McMaster in New Delhi, in relation to Afghanistan and the Islamic State.
But bilateral trade could find a prominent place on Trump's to-do list, equally if not more. The US trade deficit with India is among those Trump has tasked the US commerce department to investigate and recommend correctives.
Personalise your news feed. Follow trending topics