PMAY irregularities charge, Bengal CM Mamata attacks
Jan 06, 2023 11:39 AM IST
Divided in two groups, the central officials reached Malda and East Medinipur districts on Thursday, days after the state government completed the scrutiny of PMAY applicant lists on December 31
Kolkata: A team of officials from the Union rural development ministry on Thursday arrived in West Bengal to probe into alleged irregularities in selection of applicants for Pradhan Mantri Awas Yojana (PMAY) housing scheme for the poor, sparking off a sharp attack by chief minister Mamata Banerjee on the Bharatiya Janata Party (BJP)-led Centre.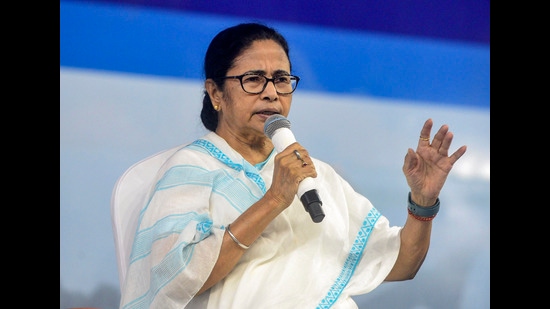 Divided in two groups, the central officials reached Malda and East Medinipur districts on Thursday, days after the state government completed the scrutiny of PMAY applicant lists on December 31. There were allegations that residents in rural areas who already owned a house or did not meet the 13 other criteria set to avail benefits under the PMAY had filed applications in 2017-18, when the lists were prepared.
It was also found that applications by several people having multi-storey houses were approved in some districts, prompting the ruling Trinamool Congress (TMC) take disciplinary actions against several of its district and panchayat leaders, saying "zero tolerance to corruption" is the new norm.
Addressing reporters while supervising arrangements for the annual fair at Sagar Island, around 100km from the state capital, Banerjee said: "Around 50 lakh (5 million) applicants had registered (for PMAY). We have deleted 17 lakh (1.7 million) names. Our inquiries will continue and more names will be deleted. BJP leaders having two-or-three-storey houses applied as well."
Accusing the Centre of sending officials to check on "trivial matters" while stopping the state funds for welfare schemes, the chief minister said: "They (Centre) are sending one team after another for political reasons… A team, B team, C team, D team. Teams are being sent if someone bursts a cracker."
She said West Bengal has neither received funds to pay the poor under the Mahatma Gandhi National Rural Employment Guarantee Scheme (MGNREGS) nor the compensation for Goods and Services Tax (GST) collected from the state.
"The Centre is not releasing funds under MGNREGS. But it is sending central teams to assess the implementation of PMAY," she said. "We (Bengal) are not getting funds for the 100 days' work scheme. The poor people are working but not getting paid and dues are pending. How many times should I have to ask the Centre for money?"
Meanwhile, officials of the central team in East Medinipur faced demonstration by a group of around 100 women who blocked their car near Bhagabanpur community block demanding release of their wages under MGNREGS.
"The women, who claimed to be local villages, gheraoed the cars of the Central team members. The convoy could not move for over an hour," said a district police officer, requesting anonymity.
Taking a swipe at the ruling TMC, leader of opposition in state assembly Suvendu Adhikari alleged that "nepotism in Bhagabanpur was so largescale that 84 applications were rejected in one gram panchayat area alone".
"Many ineligible applicants have already received the first instalment of PMAY funds in their bank accounts. I will urge Union rural development minister Giriraj Singh to send inquiry teams to every community block in Bengal and, if possible, to every village," Adhikari wrote in a long social media post.
Irregularities in PMAY applicant lists have become a raging issue in the state ahead of the panchayat elections likely to be held in coming months.
Last month, when the matter came to light, the state government asked community block development officers (BDOs) in East Medinipur, West Medinipur, East Burdwan, Bankura, Purulia, Hooghly, Malda, North 24 Parganas and Murshidabad districts to visit the homes of applicants for a fresh scrutiny.
In many cases, ineligible applicants argued that they lived in huts till 2018 and built brick and mortar buildings with their own funds over the last five years.
On November 24 last year, the Union rural development ministry sanctioned ₹13,000 crore for building 1,134,000 homes under the PMAY scheme in Bengal. The letter from the ministry said the Centre will pay its share of ₹8,200 crore for PMAY projects provided the scheme is not renamed, new beneficiaries are not added and guidelines on eligibility of beneficiaries followed.
The BJP has been demanding since 2020 that funds for all social welfare projects be stopped. The party also alleged that the TMC government was misusing funds and renaming central schemes for political mileage. The PMAY, for example, was renamed Bangla Awas Yojana, prompting the Centre to stop the funds in March last year.
In July, 2022, officers from Delhi arrived in the state to examine the implementation of PMAY and other schemes. The state government had to instruct district authorities to repaint all signboards in which the names of the schemes were changed.