Rajasthan school students pool pocket money to buy wheelchair for girl
Updated on Jan 24, 2017 12:40 PM IST
The differently abled girl, who is also deaf and mute, had visited Stepping Stone English Modern School at Ridmalsar for an academic event.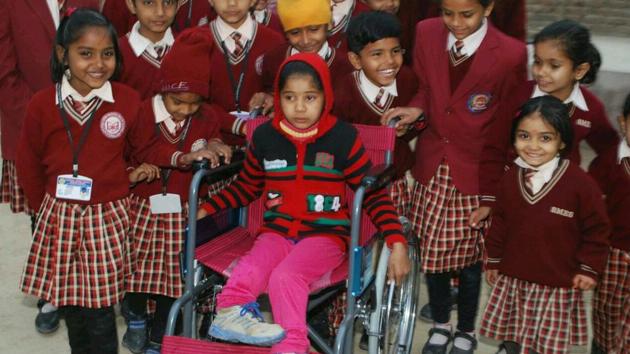 In one of the warmest tales of compassion to emerge from freezing Rajasthan, Class 2 students of a private school in Sri Ganganagar district last week pooled their pocket money to buy a wheelchair for a differently abled girl they met purely by chance.
It all began when Khyati, a class 2 student of Stepping Stone English Modern School at Ridmalsar in Sri Ganganagar district, saw a physically challenged woman riding a scooter with a side wheel. "A girl visited our school, and she was walking with great difficulty," she asked her grandfather. "Why can't she have something like this?"
Her grandfather – a retired ayurveda doctor – took the opportunity to inform her about the economic divisions in society, and how some people are too poor to afford such facilities. However, he had a suggestion. "Even you have a lot of money in your piggy bank," he said. "Why don't you buy her a wheelchair?"
Khyati agreed immediately.
Encouraged by her family members and the school administration, she asked 25-30 of her classmates if they would like to invest some of their money in a good cause. They contributed anywhere between Rs 100 and Rs 1,000 each, and soon enough, there was enough money to buy the wheelchair.
"They gifted it to the differently abled girl – Usha – about four to five days ago," said Khyati's uncle, Vijay Kumar Maharshi.
Usha, the 10-year-old daughter of an agricultural labourer, is also deaf and mute. She studies at a government school in Harkewala village, a couple of kilometres from Ridmalsar.
"A person from our village teaches at Stepping Stone. He had taken Usha with him to a function at the school," says Rajender Singh, Usha's father.
The school administration was impressed to see its students take up such an initiative, said director Vikas Sharma. "We were happy to see the kids pooling their pocket money for a noble cause. So we made a small contribution too," he added.
Also read | Muslims in Rajasthan village donate abandoned graveyard land for temple