Selfie with rape victim: Gurjar resigns, NCW issues summon
Jul 01, 2016 11:08 AM IST
A member of the Rajasthan women's commission, who sparked a controversy after clicking a selfie with a rape victim, resigned on Thursday.
A member of Rajasthan State Commission for Women, whose 'selfie' with a rape victim sparked an outrage, today resigned even as the National Commission for Women summoned her and the state panel's chief after reprimanding them for a "very insensitive" act.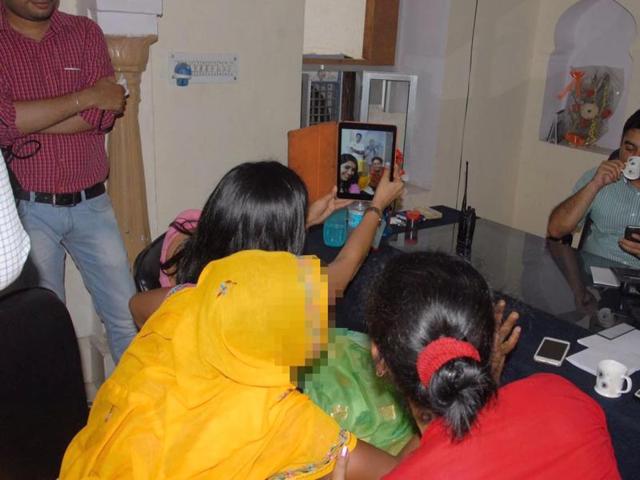 Sources said she quit after mounting pressure from the Union government, which has apparently taken strong exception to the incident.
"I have not done anything wrong but tendered my resignation on moral grounds if my action has hurt anybody's feelings," said Somya Gurjar after quitting.
The controversy erupted after a photo of Gurjar clicking a selfie with an alleged rape victim and Sharma circulated on social media on Wednesday, sparking outrage from women's rights organisation and the opposition Congress.
Calling it a "very insensitive" act, the Chairperson of NCW too on Thursday ticked off both Gurjar and Sharma, and asked them to present themselves before the body on July 4.
A 30-year-old woman from Alwar lodged a complaint against her husband and two of his nephews, accusing them of gang-raping and tattooing expletives on her body for not bringing a dowry of Rs 51,000.
"That selfie wasn't for entertainment. That woman was quite enthusiastic about getting clicked. When we were taking pictures of her tattoo as a part of the probe, she showed a lot of interest in our phone and asked us to take her picture," news agency ANI quoted as Gurjar as saying.
The commission's chairperson, Suman Sharma, didn't respond to calls for her comments. She and Gurjar met the woman in a police station.
Sharma has earlier said that Gurjar had told her she was not taking a selfie but showing the woman some photos on her mobile phone to make her feel relaxed. She said the commission would take action against the person who put the picture on social media.
Outrage was directed towards Sharma too as the People's Union for Civil Liberties demanded her resignation.
"Suman cannot shirk responsibility by stating that she does not know who uploaded the pictures on social sites," said Kavita Shrivastava, the organisation's national general secretary. "Members of the women's commission are political appointees and they do not have any understanding of law."
Making public the name or identity of a rape victim is prohibited under law. Section 228A of the Indian Penal Code (IPC) imposes a ban on the disclosure of rape victims' names.
Anybody giving out her name is liable to be punished with imprisonment of up to two years and shall also face a fine. But a victim's name can be published with written consent from her or her family, if she is dead.
The National Federation for Indian Women's (NFIW) state general secretary Nisha Sidhu said taking a selfie with a rape victim is equal to disgracing the woman.
DCP (Jaipur North) Anshuman Bhomiya, who is also seen in the picture, said he was not aware of the incident.