Rajinikanth yet to decide about contesting 2019 polls
Updated on Jul 16, 2018 12:13 AM IST
The actor-turned-politician, however, come out in support of holding simultaneous polls.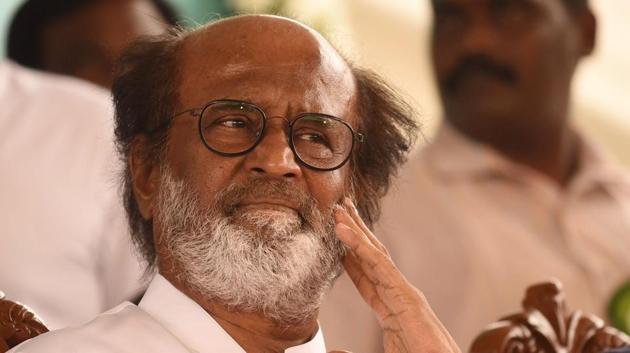 Superstar Rajinikanth, who expressed an interest to enter politics in December 2017, has said that he is still undecided about contesting the 2019 Lok Sabha elections. The actor addressed a press conference at his house in Chennai on Sunday where he backed the idea of simultaneous polls.
Edited excerpts of his responses to media questions:
Although you announced your political entry in December 2017, will you launch your party ahead of 2019 Lok Sabha polls? When will we see you as a full-time politician?
Time will decide such things. I cannot reveal that now. (Laughs).
Will you contest the 2019 Lok Sabha elections?
As of now, I have not decided about it. Since there is more time available for the 2019 LS polls, I will inform about this during the time of LS polls.
Several of your fans are claiming that around one crore people have enrolled in your Rajini Makkal Mandram. Is it true ?
No, we have not enrolled that many people. However, we are moving towards that target. We are strengthening our organisation at the grassroots level.
What do you think of BJP chief Amit Shah's claim that corruption is rooted in Tamil Nadu?
It could be his view. He could have said this with the information he has. I don't worry about it and don't want to comment on it.
Will you support the proposal for conducting Lok Sabha and state elections simultaneously?
I support simultaneous polls. If it was implemented, we can save the time and money which we have been spending for two different elections. Politicians are often spending their time and energy in facing elections. So, I strongly accept simultaneous polls. I urge all the parties in the nation to accept this and they can cooperate for passing a bill on it.
Tamil Nadu government is firm on executing the Chennai – Salem eight-lane corridor amid the peoples' objection. What's your view on that project?
Salem-Chennai project is essential for the development of the state. If the project was implemented in a better way, many industries will come to TN and employment opportunities will also increase. Of course, I accept there will be some loss for the people. But the government should give maximum compensation to the people. Meanwhile, it is my wish that the project should be implemented without affecting agriculture land.
What is your opinion on the criticism being faced by the state government?
Everyone is criticising Tamil Nadu government. I expect it to come up with more projects for the welfare of the state.
Tamil Nadu has passed Lokayukta bill. Do you feel corruption will be uprooted in state?
I congratulate TN government for passing Lokayukta bill. However, it should function as a powerful authority to eject corruption from the state.
State government celebrates former CM K Kamaraj's birthday as education development day. How do you see the quality of education in Tamil Nadu?
Education is better in Tamil Nadu as compared to other states. However, it needs to be improved. As per my knowledge, the state government is doing well when it comes to improving the quality of education.
Personalise your news feed. Follow trending topics