Ram Rahim rape verdict: Kovind, Sonia condemn violence, Sakshi Maharaj supports Dera chief
President Ram Nath Kovind and Congress chief Sonia Gandhi condemned the violence and appealed for peace, while Sakshi Maharaj said crores of people supported Ram Rahim Singh.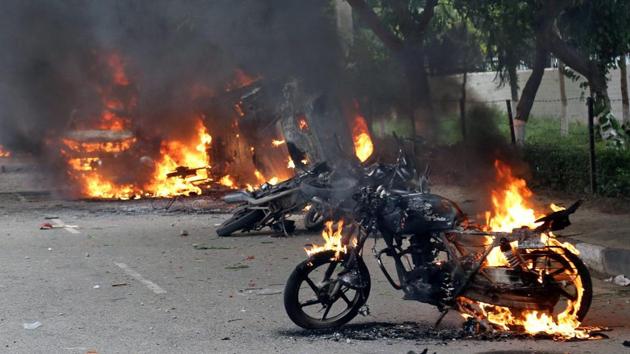 Updated on Aug 25, 2017 08:50 PM IST
President Ram Nath Kovind, Congress chief Sonia Gandhi and former Jammu and Kashmir chief minister Omar Abdullah expressed grave concern on Friday over the violence that erupted in Haryana, Punjab and Delhi after Dera Sacha Sauda chief Gurmeet Ram Rahim Singh was convicted in a rape case.
However, BJP MP Sakshi Maharaj came out in support of Gurmeet Ram Rahim Singh, and said there was only one person against him while crores supported him.
President Kovind condemned the violence and appealed for peace. "Violence and damage to public property after court verdict is highly condemnable; appeal to all citizens to maintain peace," he tweeted.
Congress president Sonia Gandhi expressed grave concern, and said several people including children had died in the violence, and "there was widespread destruction of public property and senseless attacks" on the media.
She appealed to the people to maintain peace, also spoke to Punjab chief minister Amarinder Singh and asked the government of Haryana and the Chandigarh administration to ensure the safety of all citizens.
Sakshi Maharaj, the BJP MP from Uttar Pradesh's Unnao district, there was only one person against Ram Rahim Singh.
"Crores of people are supporting Ram Rahim, and only one person is complaining against him. Is one person right or are crores of people right?"
"There is so much of ruckus over it, law and order has been disturbed, people are dying... Shouldn't this be a consideration," he added.
"Can the Supreme Court or High Court call the Shahi Imam (head) of Jama Masjid in this manner? He is also wanted in many cases... Is he their relative? Ram Rahim is a simple man so he is being harassed," Maharaj said.
Omar Abdullah said Prime Minister Narendra Modi should sack Haryana chief minister ML Khattar for "gross dereliction of duty" in the wake of the mounting death toll due to the violence.
The National Conference working president also questioned the response of the security forces in combating violence unleashed by Dera supporters. He said the law enforcing agencies were not equipped with non-lethal crowd control equipment.
"In light of the mounting death toll, I again repeat this tweet about the 'non-lethal crowd control' measures used extensively in Kashmir," he said.
"Chilli bombs? Pepper grenades? Pellet guns? Do the forces keep those only for protesting Kashmiris?" Omar wrote.
Close Story