Ram Temple trust head who shared stage with PM in Ayodhya tests positive for Covid
Updated on Aug 13, 2020 03:38 PM IST
Mahant Nritya Gopa Das, who is also the chairman of Krishna Janmabhoomi Nyas, was staying at the Sitaram temple in Mathura.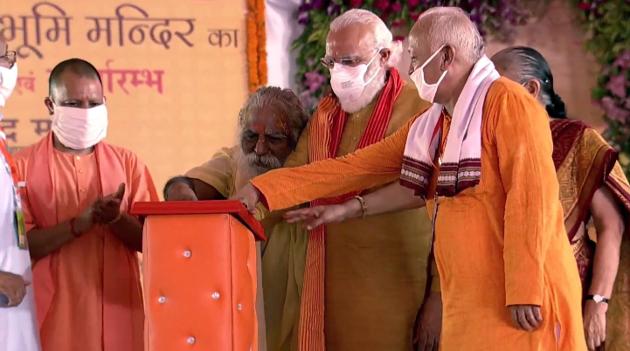 Lucknow: Mahant Nritya Gopal Das (84), the chairman of Sri Ram Janmabhoomi Tirath Kshetra Trust, who tested coronavirus disease (Covid-19) positive on Thursday morning in Mathura, where he had gone to preside over Krishna Janmashtami celebrations, has been shifted to Medanta Multi Super Speciality Hospital in Gurugram, Haryana; Sarvagya Ram Mishra, district magistrate (DM), Mathura, said.
Das, who is also the chairman of Krishna Janmabhoomi Nyas, was staying at the Sitaram temple in Mathura.
On Thursday morning, he was found to be suffering from breathlessness and a fever following which DM Mishra and Dr Sanjeev Yadav, chief medical officer (CMO), Mathura, reached the shrine to attend to him.
"The Mahant tested Covid-19 positive following a rapid antigen detection (RAD) test. An advanced life-support-equipped ambulance was organised to shift him to Medanta Multi Speciality Hospital. In Mathura, he was attended to by CMO Dr Yadav and a team of doctors. Later, Mathura city magistrate Manoj Kumar Singh and the circle officer accompanied him to the hospital. The ambulance left Mathura for Gurugram at around 12:45 pm," DM Mishra said.
Earlier on Thursday morning, Awanish Awasthi, additional chief secretary (ACS), (home), Uttar Pradesh (UP), informed media persons that Mahant Das has contracted SARS-CoV-2, which causes Covid-19.
"Mahant Nritya Gopal Das has tested Covid-19 positive. UP Chief Minister Yogi Adityanath has sought details of his health condition. The CM has spoken to DM Mathura and his followers," said Awasthi.
"The CM has also spoken to Dr. Naresh Trehan of Medanta Multi Super Speciality Hospital and requested for the Mahant's immediate medical attention. He has also directed DM, Mathura, to provide support to ensure the best possible medical treatment for the Mahant," he added.
"Mahantji had not been keeping good health for the past five years, but he appeared to be in fine fettle, while attending the Janamasthmi celebrations on Wednesday evening. We came to know about his ill health on Thursday morning," said Kapil Sharma, secretary, Shri Krishna Janambhoomi Seva Sansthan, Mathura.
On August 5, Das had attended the bhoomi pujan for the Ram Mandir in Ayodhya.
He had also shared the stage with Prime Minister Narendra Modi and had addressed the gathering on the occasion.
Topics
Personalise your news feed. Follow trending topics