Reading the Union Budget with state govt spending statistics
Jan 20, 2023 04:00 PM IST
Here are five charts that explain why the importance of the Union Budget in overall government spending has reduced over time
Finance minister Nirmala Sitharaman will present her fifth consecutive budget on February 1 this year. The Union Budget, as the blueprint of Union government's spending and receipts, attracts a lot of attention. But its importance in overall government spending has actually reduced over time. Here are five charts that explain this argument in detail.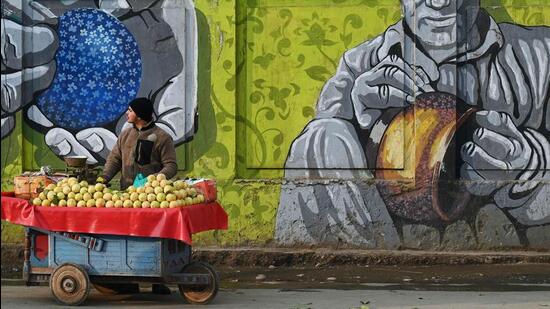 States' expenditure has overtaken central expenditure in India
State governments, put together, now spend more money than the centre in India. A comparison of central and state expenditure statistics from RBI's database shows that the share of central spending in total government spending fell below the 50% mark for the first time in 1999-2000. While the centre's share crossed the 50% mark in 2002-03, between 2008-09 and 2010-11 and in 2020-21, it has stayed below the 50% mark in every other year in the post 1999-2000 period. The 2020-21 rise in centre's spending share was perhaps a result of the pandemic and it has gone down in the next two years for which data is available.
See Chart 1: Share of central and state spending in total government expenditure in India
There was no significant increase in states' fiscal deficit post-pandemic
The union government's fiscal deficit has seen a sharp increase in the wake of the pandemic. This increased to 9.2% of GDP in 2020-21, and is yet to come down to pre-pandemic levels. Unlike the centre, states have been far more restrained as far as the post-pandemic fiscal deficit is concerned. While this number did increase to 4.1% of GDP in 2020-21, as per provisional estimates, it came down sharply to 2.8% in 2021-22. While the Budget Estimate (BE) of states' fiscal deficit for 2022-23 is 3.4%, it needs to be kept in mind that the provisional estimate for 2021-22 fiscal deficit ended up lower than the BE and Revised Estimate (RE) numbers for 2021-22, which suggests that the 2022-23 fiscal deficit number could also end up lower than the BE figures. To be sure, a stable fiscal deficit does not mean that state finances have not suffered because of the pandemic. This strain can be seen in an elevated debt-GDP ratio for the states which increased from 26.7% in 2019-20 to 31.1% in 2020-21 and is only expected to have come down to 29.5% as per BE numbers for 2022-23 .
See Chart 2: centre and state fiscal deficit
Individual states have different levels of dependence on centre's tax devolutions
To be sure, headline numbers on state spending hide a lot of divergence in spending ability and patterns of individual states. The first big difference is in terms of dependence on central taxes for state spending. Data from Centre for Monitoring Indian Economy (CMIE) database shows that share of central taxes in total tax revenue of states varies significantly for different states. Among major states, this share is less than 20% for states such as Maharashtra, Karnataka and Tamil Nadu but 66% for a state like Bihar. Share of states in central taxes is determined as per a formula decided by the Finance Commission, a constitutional body set up every five years.
See Chart 3: Share of central taxes in total revenue of states
However, states' actual share in central taxes is lower than what the Finance Commission says
This is the result of the centre keeping a large part of its taxes out of the divisible pool. The Finance Commission's formula for sharing revenue with states does not apply to centre's tax revenue that is collected under heads of cess and special duties. This means that states' share in centre's gross tax revenue is much lower than the currently mandated 41% share by the 15th Finance Commission. In fact, this share has come down significantly in the last few years. This has been a major source of friction in India's fiscal federalism framework.
See Chart 4: States' share in centre's gross tax revenue
To be sure, states also differ in their spending priorities
While states always make it a point to raise issues which work in their favour in the debate on India's fiscal federalism, the qualitative difference in spending pattern of various states is not given as much attention. For example, the share of spending on pensions varies in a big way across states. It is as high as 14% for Himachal Pradesh and almost zero for Delhi. Similarly, the share of non-development expenditure – it includes spending on administrative services, salaries and pensions, interest payments etc. – in total expenditure of states varies from just 11% for Delhi to as high as 41% in the case of Punjab.
See Chart 5: Share of pensions in total spending of states
While some of the spending commitments of states are legacy commitments and therefore difficult to change suddenly, their attention or lack of it towards aligning spending patterns with current and future development and sustainability requirements does play a big role in determining the quality of public spending in the Indian economy. Given the fact that states spend more than the centre, the union budget only plays a limited role on this front.
Topics