Republic Day 2023: 'DARE DEVILS' motorcycle stunt team wows crowd | VIDEO
Jan 26, 2023 12:32 PM IST
Dare Devils stunt team, Republic Day 2023 parade: The highlight was a 'human pyramid' that featured 33 people on nine bikes.
As the 2023 Republic Day parade along Delhi's Kartavya Path wound down, a daring group of men and women on motorcycles - the famous Corps of Signals Motor Cycle Rider Display Team, or 'DARE DEVILS' - took centre-stage with a series of stunning acrobatic displays.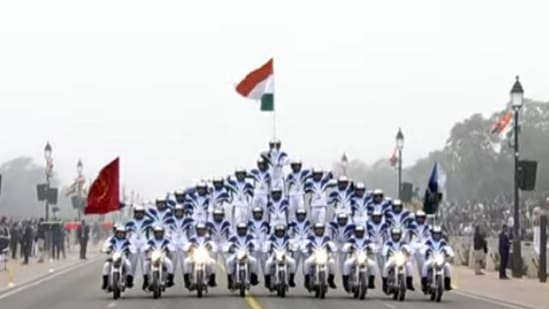 In keeping with the number of 'firsts' to mark India's 74th Republic Day, women officers of the Army were part of the stunt team. One such officer was Lieutenant Dimple Bhati, who has been training with the crack 'DARE DEVILS' team for the past year. Hailing from Jodhpur, Lt Bhati told news agency ANI she had participated in different events and had been supported by male colleagues.
RECAP | 2023 Republic Day parade as it happened
Visuals of the 'DARE DEVILS' show shared by ANI showed riders balancing nimbly several feet above the ground while riding motorcycles.
Others showed one person balancing on a platform of two bikes, and yet others showed stuntpersons rotating on top of moving bikes. The highlight was a 'human pyramid' that featured 33 stuntpersons balanced on nine bikes.
According to the Army, the 'DARE DEVILS' 'consist of volunteer dispatch riders who are not only proficient in their trade but also possess self-determination, mental alertness, unmatched courage, physical stamina and precision in handling of motorcycles'.
"Precision to the split of a second that has the spectators missing their heart beats is the kind of stunts what the 'DARE DEVILS' perform. The team is also known for its unmatched and scintillating human formations on bikes."
After the 'DARE DEVILS' show the Republic Day 2023 parade concluded with a flypast featuring 45 planes from the Air Force, four helicopters from the Army and one plane from the Navy.
The Navy's Ilyushin IL-38SD - after completing over four decades of glorious service - flew over the Kartavya Path for the first (and last time) on R- Day.
READ | Republic Day 2023 parade: Navy's IL-38 makes first and last flypast
The IL-38SD was decommissioned on January 17 last year after serving India for 44 years. The IL-38SD - an all-weather aircraft with a substantial operating range - was commissioned in 1977.
READ | Agniveers, women camel riders on Kartavya Path: R-Day 2023 firsts
The Republic Day parade - for which the chief guest was Egypt president Abdel Fattah Al-Sisi - was a unique mix of India's military prowess and cultural diversity, depicting the country's growing indigenous capabilities, women empowerment and emergence of a 'new India', the defence ministry said.
A total of 23 tableaux – 17 from states and union territories, and six from various ministries and departments – depicting India's vibrant cultural heritage, and economic and social progress were part of the parade on the Kartavya Path.