RJD chief Lalu Prasad to get treatment at AIIMS Delhi
Mar 28, 2018 11:24 PM IST
Lalu Prasad, along with some RJD members, boarded the AC first class bogie of Ranchi-New Delhi Rajdhani Express on Wednesday evening
After around a week of parleys and speculations, incarcerated Rashtriya Janata Dal president Lalu Prasad on Wednesday left for New Delhi to undergo treatment at the All India Institute of Medical Sciences (AIIMS), on the recommendation of a medical board set up for the 70-year-old ailing leader.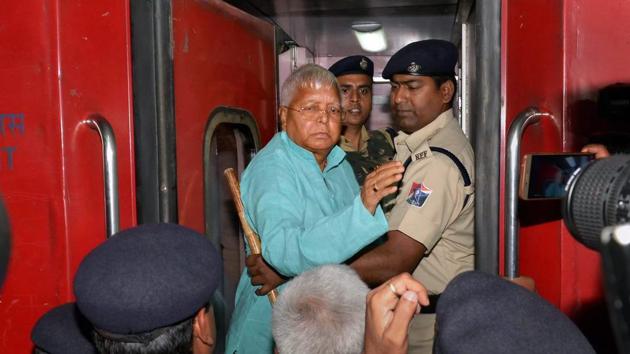 Prasad, along with some RJD members, boarded the AC first class bogie of Ranchi-New Delhi Rajdhani Express on Wednesday evening. "Permission for shifting Prasad to AIIMS was issued to the jail superintendent on Tuesday night," said Harsh Mangla, inspector general (prisons). Jharkhand home secretary SKG Rahate, however, refused to say anything on the matter.
The former Bihar chief minister had earlier requested jail authorities to allow him fly to Delhi and also expressed willingness to pay for the air travel, but his plea was turned down.
Birsa Munda Jail superintendent Ashok Choudhary refused to comment on the issue. The RJD has slammed the government for its alleged apathetical approach towards Prasad's health and accused it of deliberately causing trouble for him.
"Since the beginning, government has been deliberately causing trouble for Laluji. What was the harm in allowing him to travel by air when he was willing to pay for it?" said Annapurna Devi, Jharkhand RJD president.
Annapurna joined Prasad in the train at Koderma on Wednesday. Besides, senior RJD leader Bhola Prasad also accompanied Prasad to Delhi. He was taken from the VIP lounge of Ranchi railway platform to the train compartment on an e-rickshaw amid chants of "Lalu Yadav Zindabad," by hundreds of RJD supporters who had gathered for a glimpse of their leader.
Prasad, who is serving jail term since December 23 last year after conviction in a fodder scam case, was admitted in the cardiology wing of Rajendra Institute of Medical Sciences (RIMS), Ranchi, on March 17 evening after he complained of discomfort.
The RJD chief has a history of cardiac ailments. In August 2014, he underwent two major heart surgeries — one to replace an aortic valve and the other to repair the aorta — at Asian Heart Institute, Mumbai. He has since been under medication.
At RIMS, he underwent a surgery for perianal abscess and was under observation. "He is stable now," said Dr RK Srivastava, director, RIMS. Prasad is likely to undergo treatment at AIIMS for about three months.