'Rogue' Bihar elephant on rampage, kills 10 tribals in Jharkhand
Man-elephant conflict has been very high in Jharkhand with 589 people dying in the past decade.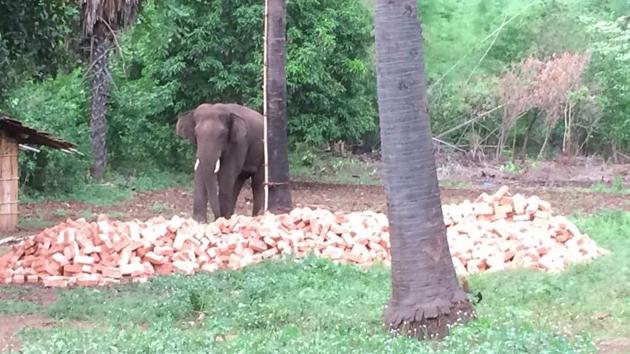 Updated on Aug 08, 2017 06:41 PM IST
A rogue elephant that has killed 10 people in Jharkhand since crossing over from neighbouring Bihar in April has emerged as public enemy number one in the eastern state where officials are normally pitted against Maoist insurgents.
The tusker has struck terror in large swathes of the tribal state, prompting the government to requisition the services of a hunter from Hyderabad and several mahouts (trainers) from Uttar Pradesh in a bid to tame the animal.
"The hunter will arrive on Wednesday. We have also invited a five-member team of mahouts from Uttar Pradesh. The team is arriving tonight," MK Singh, the conservator of forests, told HT on Tuesday.
The tusker had killed four people in Bihar before it crossed over to Jharkhand. On Sunday, it killed Raju Pahariya, 25, while he was returning from a weekly village market in Sahebganj block. Locals said Pahariya had chosen a short-cut through a forest when he came face-to-face with the elephant.
Man-elephant conflict has been very high in Jharkhand with 589 people dying in the past decade. Elephants are long range animals requiring large habitats, but newer human habitations have cut off elephant corridors, trapping the giant mammals in smaller areas and forcing them to raid towns and villages.
Two nights ago, an elephant herd raided the house of veteran BJP leader and former finance minister Yashwant Sinha in Hutpa village of Hazaribagh district, destroying the boundary wall.
More than 25 villages of the Pahariya community in three blocks of Borio, Mandro and Taljhari are reportedly spending sleepless nights as the elephant targets houses and crops regularly.
"The elephant has been killing people for the last four months. But the forest department has not made any concrete effort to capture it. Villagers are living in panic as it may damage their houses or kill people anytime," alleged Mangli Paharin, the widow of Pahariya.
But forest officials said several measures have already been undertaken to capture the elephant. In April, a team of 12 people was brought from West Bengal to chase away the elephant. The team is still camping in different villages of the district but the desired result is still awaited, the official said.
Manish Tiwary, the divisional forest officer of Sahebganj, said the tusker seems to be confused and lost in its new habitat. "It is making abrupt movement, causing loss to life and property," he said.
All those killed by the tusker in Jharkhand belonged to the endangered tribal Pahariya community. According to the 2011 census, there are just 25,585 people of the community left and the government has launched several schemes for their protection and development.
"We have plans to tranquilise the elephant. If it cannot be captured after taking all possible steps, we may seek order for its shooting," forest conservator Singh said. "We are taking every step to save the elephant," he added.
The hunter expected to arrive in Jharkhand from Hyderabad is Nawab Shafath Ali Khan. An ace shooter who won his first national games gold medal at the age of 12 in 1968, Khan had been earlier tasked by the Bihar government to cull nilgais after they were declared a nuisance.
Close Story