Pain running a coalition, says Kumaraswamy, Karnataka CM of 54 days
Hindustan Times, New Delhi |
HT Correspondent
Jul 15, 2018 11:25 PM IST
HD Kumaraswamy, who heads the Congress-JD(S) coalition government in Karnataka, apparently had tears in his eyes at a ceremony organised to felicitate him on becoming the CM.
HD Kumaraswamy has said he is unhappy being Karnataka's chief minister, apparently referring to the difficulty in running a coalition government along with the Congress.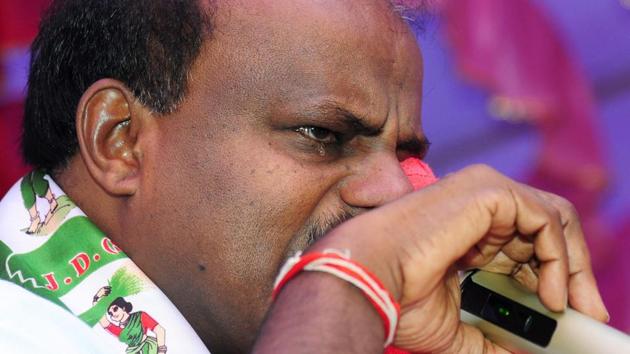 Kumaraswamy, in a video tweeted by news agency ANI, is seen wiping his eyes as he talks about his "pain". "You are standing with bouquets to wish me, as one of your brother became chief minister and you all are happy, but I'm not. I know the pain of coalition government," ANI quoted him as saying on Saturday.
"I became Vishkanth and swallowed pain of this government," said Kumaraswamy in Bengaluru, referring to Lord Shiva swallowing poison for the good of the world.
Kumaraswamy's Janata Dal (Secular) or JD (S) and the Congress joined hands after the May 12 assembly polls in Karnataka. The Bharatiya Janata Party emerged as the single largest party in the elections but it's government fell in less than a week.
The JD (S) and Congress have over the months sparred with each other over a range of issues, from the state budget to the appointment of pro-tem chairman of the Karnataka Legislative Council.
Congress leader and former chief minister Siddaramaiah was in June was heard in a video expressing doubts about the longevity of the coalition government. Siddaramaiah criticised Kumaraswamy's decision to present a full Budget in July when the previous Congress government had rolled out one in February.
Kumaraswamy, since taking over as chief minister, has at various times doubted if his government will complete its term and then said he is confident it will. "Mine is not an independent government. I had requested people to give me a mandate that prevents me from succumbing to any pressure other than you. But today, I am at the mercy of the Congress. I am not under the pressure of the 6.5 crore people of the state," Kumaraswamy said on May 28.
"This coalition government will function with stability. I know, no one can touch me for one year. I will be there at least for one year, until the Lok Sabha election is over. Until then, no one can do anything to me, he said on June 15.