Saharanpur violence: DM, senior cop suspended over Dalit-Thakur clashes
Updated on Jun 13, 2017 09:45 AM IST
The caste violence in Saharanpur is being seen as the first law and order challenge for Yogi Adityanath since the BJP came to power in March.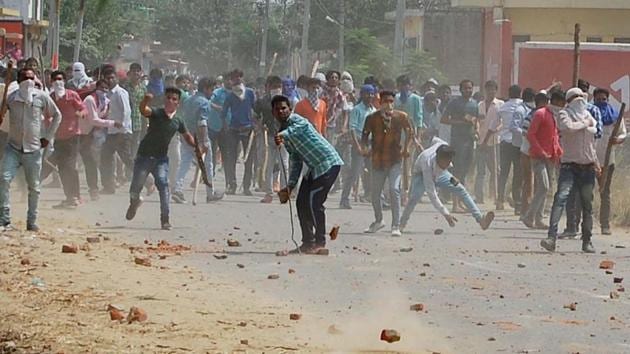 Hindustan Times, Saharanpur/Lucknow |
HT Correspondents
The Uttar Pradesh government on Wednesday withdrew internet services in Saharanpur and suspended the district magistrate and police chief as it grappled to contain caste clashes that have killed two people and injured scores since May 5.
Two men were shot at in different places during the day and another person was assaulted by unidentified people but police said it was not clear if the incidents were linked to the clashes between Dalits and upper-caste Thakurs in the area, around 175 km from Delhi.
Officials said in Lucknow, internet and short messaging services (SMS) were suspended indefinitely to check rumour-mongering and provocative posts through social media and mobile phones. The ban will not apply to police and administration officers.
The violence is being seen as the first law and order challenge for Yogi Adityanath since the BJP came to power in March, especially in western UP where caste and communal divide runs deep.
The clashes started over a rally to commemorate 16th century Rajput king Maharana Pratap. Thakurs allegedly torched scores of Dalit houses in Shabeerpur village near Saharanpur. Days later, angry Dalits damaged several houses and vehicles of Thakurs.
Officials said the chief minister ordered suspension of district magistrate NP Singh and senior superintendent of police SC Dubey for their failure to contain the clashes. PK Pandey was appointed as the new DM, Bablu Kumar will take charge as the district police chief.
The government also transferred divisional commissioner and a deputy inspector general of police.
Home secretary Mani Prasad Mishra and three top police officials were rushed to Saharanpur after Yogi Adityanath reviewed the situation on Tuesday, shortly after fresh clashes left one dead and eight injured.
Earlier on Wednesday, motorcyle-borne assailants shot at a youth, identified as Pradeep Chauhan, when he was on his way to Saharanpur. The victim, shot at from behind, was sent to a hospital in Chandigarh.
Unidentified people also attacked two men in Mirzapur village in the morning, the police said. One of them was shot while the other was assaulted, police said, adding they were admitted to hospital.
Police arrested more than 20 people on Tuesday after the attacks on Dalits who were returning from a rally of Bahujan Samaj Party chief Mayawati.
Mayawati met some families of victims and held the BJP government responsible for the violence. She, however, advised Dalits not to take law in their hands and called upon the people of all castes to work for peace and harmony.
State health minister Siddharth Nath Singh said the BSP president was shedding crocodile tears and trying to regain ground she lost in the recent assembly elections.
Saharanpur district has 26% Dalit population villages and 10% Thakurs.