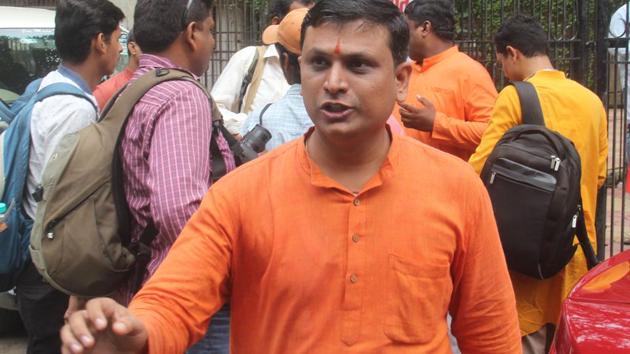 Sanatan Sanstha not involved in any murder, we don't believe in violence, says outfit leader
The Sanatan Sanstha has been on the radar of investigating agencies after the arrest of several people with alleged ties to the organisation in connection with the 2013 murder of rationalist Narendra Dabholkar in Pune.
Hindustan Times, Mumbai | By Eeshanpriya MS
UPDATED ON SEP 06, 2018 10:01 AM IST
The Sanatan Sanstha has been on the radar of investigating agencies after the arrest of several people with alleged ties to the organisation in connection with the 2013 murder of rationalist Narendra Dabholkar in Pune. But Chetan Rajhans, national spokesperson of the Sanatan Sanstha, tells Eeshanpriya MS that the organisation is non-violent and is being maligned. Edited excerpts:
Sanatan Sanstha and its sister organisations such as Hindu Janajagruti Samiti (HJS) are being accused of conspiring to kill rationalists. What is your stand?
The Sanatan Sanstha is an organisation engaged in propagation of spirituality, and Hindu Janajagruti Samiti unites Hindus. Both the organisations are separate, but since they are like-minded, they work together.
All the allegations against Sanatan Sanstha and Hindu Janajagruti Samiti are baseless. When Dabholakar was killed, then chief minister of Maharashtra, Prithviraj Chavan, made a statement, even before the investigation could start, that elements having an attitude of Nathuram (assassin of Mahatma Gandhi) were behind the killing. He thus misled the direction of the investigation itself. At that time, we had written to the police about who could be the likely murderers of Dabholkar. We maintained other aspects should also be investigated behind his killing.
We had also given some leads to the police in the case of the killing of Comrade Pansare. He was leading a movement to abolish toll tax in Kolhapur city; he was handling several issues through many workers' unions. Unfortunately, police neglected the leads provided by Sanatan Sanstha. Same is the situation in the case of Gauri Lankesh's killing. Her brother had expressed the strong possibility of a Maoist hand in the killing. Sanatan Sanstha has no connection with these killings. Due to propaganda by the Communist Party, the misunderstanding about us has been created.
While you have said that those arrested or under probe have nothing to do with Sanathan Sanstha and Hindu Janajagruti Samiti, several individuals including Amit Degwekar, Amol Kale, Sudhanva Gondhalekar, Vaibhav Raut and Samir Gaikwad have been linked to either of the organisations. How do you explain this?
Vaibhav Raut and Sudhanva Gondhalekar are not seekers of Sanatan Sanstha. Raut is an activist of Hindu Govansh Raksha Samiti (Nalasopara). Gondhalekar was earlier active in Shree Shivpratishthan Hindusthan. Amol Kale was active in HJS 10 years ago. Amit Degavekar used to visit the ashram to distribute copies of the daily 'Sanatan Prabhat'. Similarly, Samir Gaikwad used to participate in the exhibition-seva of Sanatan's holy texts. All these individuals were arrested by the police under the pressure by progressive elements. There is no basis for these arrests.
There have been demands for a ban on Sanatan Sanstha. The Maharashtra government had even sent such recommendations to the Centre in 2011 and 2015. What is your reaction to this?
The Congress leaders, progressive organisations and anti-Dharma elements are demanding a ban on Sanatan Sanstha. When Congress was in power in the state and Centre in 2011, a proposal to impose a ban on Sanatan Sanstha was submitted to the Centre. Later, the Home ministry that belonged to the Congress reported that a ban could not be imposed. This goes to prove it was a pathetic attempt to prove 'Hindu terrorism'. Since the Sanatan Sanstha is strongly raising a voice for establishing a 'Hindu Nation', the Sanstha along with its seekers are on the radar.
There is a pending petition in Bombay high court that claims Sanatan Sanstha uses Ericksonian Hypnosis on its seekers to undertake violent activities. How do you respond?
Sanatan Sanstha teaches spirituality. You can ask any hypnotherapist whether is it possible to hypnotise anybody and make him commit a crime. Many hypnotherapists have confirmed that nobody can be hypnotised against his wish and cannot be made to commit any evil deed. Therefore, such false things are spread only to defame Sanatan Sanstha.
Do you think the Bharatiya Janata Party (BJP)-led governments in the state and at the Centre are unfairly targeting you ?
The BJP is not targeting us, but a few Congress leaders and administrative officers with anti-Dharma attitude are definitely assisting our opposition.
Tell us about the funding of your organisation.
Most missions of the Sanatan Sanstha are run on donations. The Sanstha's seekers donate a part of their monthly income. There are many well-wishers of the Sanstha who do not perform spiritual practice but subscribe to its ideology. Grain merchants donate grain, cloth merchants donate clothes; seekers also donate their old but usable household furniture, clothes, articles. Every year during Guru Purnima, seekers of the Sanstha go door to door and collect donations.
Your organisation is a spiritual one and promotes religion. Do you justify any kind of violence to achieve your objectives?
The entire mission of Sanatan Sanstha is being carried out on the constitutional path. No agitation is held without prior permission of competent authorities, no vandalism is practised, no stone pelting, 'bandhs' are not observed. Only activities like submitting representations, lodging complaints, etc. within the provisions of Constitution are undertaken. Therefore, Sanatan Sanstha definitely holds Indian Constitution in respect. Violence was never, is never and will never find any place in the mission of Sanatan Sanstha, which believes in working in a constitutional manner.
Close