An old video and Sanjay Raut's new 'father' jibe at rebel Shiv Sena MLAs
Published on Jun 27, 2022 11:46 AM IST
The political turbulence in Maharashtra was triggered by the faction war in Shiv Sena after Minister Eknath Shinde flew to Surat with some MLAs and then to Guwahati.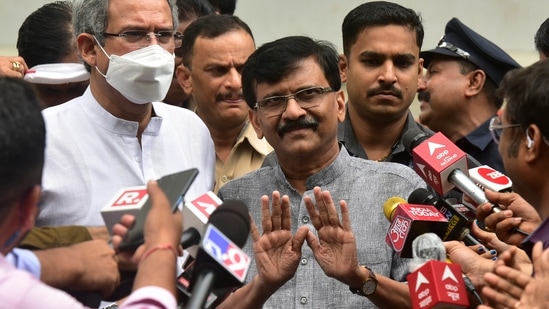 Shiv Sena MP Sanjay Raut on Monday took a swipe at rebel MLAs by tweeting an old video of a legislator in which he can be heard talking about those who ditch their leaders. In the video, Gulabrao Patil, a rebel Shiv Sena MLA and a minister in the Maha Vikas Aghadi government, says people "change their fathers" for their own benefits.
Taking a dig at Deepak Kesarkar, another MLA from the Eknath Shinde faction camping in Guwahati, Raut said, "Please have a little patience Mr Kesarkar, who is talking about changing your father! Don't lose your thinking power amid the mountains and bushes. You recognize this person, right."
Kesarkar earlier claimed that MLAs of the Shinde camp are ready to face the floor test in the Maharashtra Legislative Assembly at any time, but added that first recognition should be given to the rebel faction.
"One to two more MLAs will come and join us. With their support and other independents, our strength will be increased to 51. We will arrive at a decision in 3-4 days and thereafter, we will directly go back to Maharashtra," ANI quoted Kesarkar as saying.
Eknath Shinde spoke to Raj Thackeray over phone on Maharashtra crisis
He also denounced Raut's "post-mortem" remark directed at rebel MLAs as "indecent". The Rajya Sabha had told a gathering of party workers that "40 bodies will arrive from Guwahati and they will be directly sent for post-mortem."
"It is a very indecent statement. What kind of language has he used? He is a member of Parliament. By using such language, he is inciting the Shiv Sainiks. Our camp's majority is increasing day by day," Kesarkar said, as quoted by ANI.
Raut said his tweet was "for people sitting in Guwahati. Patil said in his speech 'People eat, drink and enjoy with the party and then change their father, we aren't like them'," reported ANI.
"I will repeat it, "those who stay in a party for 40 years and then run away, their souls are dead, they do not have anything left in them", these are the lines said by Dr Ram Manohar Lohia. I didn't want to hurt anyone's sentiment, I just said the truth," ANI quoted Raut as saying.
After Shinde faction named their group 'Shiv Sena Balasaheb', Raut said that rebel MLAs should use their fathers' names instead to appeal for votes.
Maharashtra cabinet ministers Gulabrao Patil, Dada Bhuse, Sandipan Bhumre, and ministers of state Shamburaje Desai and Abdul Sattar have joined the rebel camp. Another minister, Bachu Kadu of Prahar Janshakti Party, and an Independent minister from Sena quota, Rajendra Yedravkar, have also been camping with Shinde.
Personalise your news feed. Follow trending topics