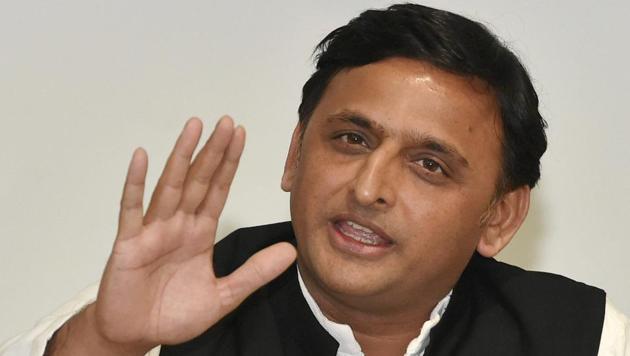 Seat sharing is a trivial issue, the country is bigger: Akhilesh Yadav
Former chief minister Akhilesh Yadav said Samajwadi Party will expand its alliance to stop the BJP from returning to power in the country, and 'they will have to be stopped in Uttar Pradesh first'.
Hindustan Times, Lucknow | By Sunita Aron
UPDATED ON APR 03, 2018 11:44 AM IST
After crushing defeats in the 2014 Lok Sabha elections and the 2017 assembly polls in Uttar Pradesh, former chief minister Akhilesh Yadav is clawing his way back into the reckoning. Last month, the Samajwadi Party (SP) won two crucial bypolls, defeating the Bharatiya Janata Party (BJP) in the former constituencies of chief minister Yogi Adityanath (Gorakhpur) and deputy chief minister Keshav Maurya (Phulpur) by forging an alliance with the Bahujan Samaj Party (BSP).
The coming together of the two parties was once considered impossible, but now both Akhilesh and BSP chief Mayawati have decided to take the partnership forward to the 2019 general elections.
In an interview with Sunita Aron, Akhilesh talks about the alliance with the BSP, a possible seat-sharing formula, social engineering, and the family feud in the SP. Edited excerpts:
Why did you form an alliance with the BSP?
We have a BJP government at the Centre, which has entered into an alliance with 45 small parties across the country to remain in power or to grab power. They have allied with political parties with which they have no ideological compatibility — in Jammu & Kashmir, Sikkim, Tripura. Ours is the second, or at least, third biggest alliance. We will expand our alliance, if required, to stop the BJP from returning to power in the country and for this they have to be stopped in Uttar Pradesh first.
But Mayawati is considered temperamental, some say undependable?
It is not a question of personalities today when the BJP is igniting passions by spreading venom in the name of caste and religion. They are pitting caste against caste, Hindus against Muslims. Statues of Babasaheb Ambedkar are being desecrated in UP and elsewhere while they are trying to change his name by adding 'Ramji'. What more can happen in a country where a Dalit youth is killed in the Prime Minister's state, Gujarat, only because he rode a horse? If they are really committed to the welfare of Dalits, they should provide the basics — education, security and health — so that Dalits can live with dignity. The BJP gave a slogan of 'Sabka saath, sabka vikas', but the chief minister, appointed by the BJP leadership and not elected by the public, openly says, "I am a Hindu, I don't celebrate Eid." He takes oath in the name of 'Ishwar' but does not respect the Constitution scripted by Ambedkar.
Mayawati is a hard-bargainer. Will there be a formula to share 80 seats?
If both leaders have the willpower, then there can never be any issue in seat sharing, especially when there is a larger goal. If we, the Samajwadis, have to take a step backward to stop the BJP from coming to power, we are prepared. We will not hesitate. A seat or two doesn't matter, the country is bigger. Seat sharing is a trivial issue and to stop the BJP's return to power at the Centre, we will have to stop it here in UP.
The SP-BSP coalition government had a violent fall in 1995? Will that not cast a shadow now?
The past has never figured in our discussions. The BSP took the initiative and announced support in the bypolls. The BSP leader herself has said that I was not even in politics back then. People want to incite differences by raising issues that we are not even discussing. The voters and the cadres are excited because we will give them a strong alternative to the BJP.
Were you confident of winning the bypolls?
The cadres worked in tandem, their bonding was amazing. After I visited Gorakhpur, somehow I had this inner feeling that we are winning this election. The social alliance that we built, the unity with which the cadres of the two parties worked, and the public anger — I knew we are winning. In Gorakhpur, I was told that a long time back the CM, TN Singh, was defeated by Ram Krishna Dwivedi, who had a cycle symbol.
So you think the Dalit-Yadav animosity is over?
What animosity? There is no animosity. We are willing to do everything possible to defeat the BJP. And we all belong to the same 'samaj'.
So have the seat-sharing talks started?
No, not yet. The formula will be straight and simple. We will not share our strategy today.
Will it be a grand alliance, with the Congress and the Rashtriya Lok Dal also a part of it?
I have good relations with the Congress. We contested the 2017 polls in an alliance with them. I had informally met RLD leaders before the bypolls.
West Bengal chief Minister Mamata Bannerjee is also on the move, meeting people to rebuild a federal front.
I have very good relations with Mamata ji. As and when she will visit UP, it will be good if she could hold a joint meeting with us — BSP and SP.
Will yours be a national alliance, or be restricted to UP?
Our alliance will be limited to UP, but if we have do it at the national level, then perhaps only in states and seats where we have active organisation.
Some say the third front lacks credibility — why will people vote for it against Narendra Modi?
We have a vibrant democracy, it has matured. We have also learnt from past mistakes. If the BJP can rule the country with 45 alliances, why can't the third front? Now, after four years, we do hear some alliance partners creating noises. Before the presidential polls, I had told TDP (Telugu Desam Party) leaders to raise their state issues then if they really wanted them to be accepted. But they're raising them now. It's too late.
But Mayawati harbours national ambitions. Her cadre wants her to be the PM?
I don't have to be PM. I am not even a claimant. That issue will come up after the elections and BSP or Mayawati-ji would need support of other parties also. We will also support.
The SP-BSP alliance is being dubbed as sheer opportunism by some.
Why? The BJP used both caste and communalism to win elections. In the garb of building social alliances, they projected various caste leaders. We have picked up their formula and will use the same formula to defeat them. We did quality work — from distributing laptops to building the smartest expressway in the state — but we did not have the glue to keep the support base together. Now we have successfully experimented in Gorakhpur and Phulpur. The BJP is the biggest casteist party. They approached the Wadiyar family in Karnataka, oblivious of the fact that they are Yadavs.
What if the BJP brings a quota within a quota to take away Most Backward Classes and ati-Dalit votes?
Don't you know in the Manuvadi vyavastha (system), even Yadavs are shudras. I was living in a fool's paradise thinking we are forwards; my wife from Uttrakhand is also a forward; and also because we distributed laptops, brought the metro. But they call us 'saap-chachundar'. Yes, my father was the CM. I have been CM, but for them we are still 'saap-chanchudar,' and so will be my son. The BJP still considers us backward. While we are progressive and visionary backwards — it's the BJP which is backward as they don't believe in development. Why are they talking about quota within quota? I say do a census and give rights to all castes as per population and without any discrimination.
Is your father Mulayam Singh Yadav happy?
Yes, at our by-election win. He joined hands with Kanshi Ram to checkmate the BJP after the demolition of Babri Masjid. I am also doing it to stop BJP. Like father like son.
What about your family dispute?
Chacha (Shivpal Singh Yadav) voted with us. He will remain in the SP -- all speculations about any member of our family joining the BJP will prove wrong. We respect each other.
Close