Seeds from Bt brinjal trials not deposited with govt body
The use of GM crops is contentious, with arguments existing on both sides. Still, with India not allowing the use of genetically modified brinjal, the developments in Haryana are a clear violation of the law.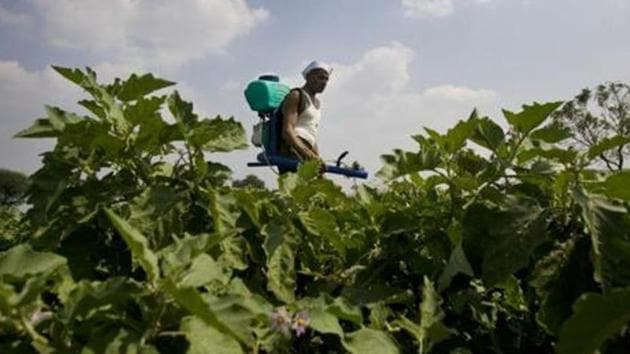 Updated on May 12, 2019 07:31 AM IST
Hindustan Times, New Delhi |
Jayashree Nandi
Amid fears of widespread contamination of local varieties by Bt Brinjal in Haryana, the National Bureau of Plant Genetic Resources (NBPGR) said it had not stored any seeds of the genetically modified variety from field trials conducted before an "indefinite moratorium" was imposed on its commercialisation in 2010.
Maharashtra Hybrid Seeds Company Pvt Ltd (Mahyco), a private seed developer, Tamil Nadu Agricultural University (TNAU) and University of Agricultural Sciences (UAS) at Dharwad in Karnataka conducted the trials on Bt Brinjal and were in possession of the seeds.
Minutes of the Genetic Engineering Appraisal Committee (GEAC) meetings held on February 17, 2010 and May 12, 2010 reveal that the committee decided that NBPGR would store Bt Brinjal seeds from all three seed developers and take affidavits from the company and institutions confirming that all seed stock has been deposited with NBPGR.
This was never done. The seeds are still with the developers — a fact that has come to light only now.
The use of GM crops is contentious, with arguments existing on both sides. Still, with India not allowing the use of genetically modified brinjal, the developments in Haryana are a clear violation of the law.
"NBPGR has agreed to accept Bt brinjal seeds from M/s MAHYCO, TNAU, Coimbatore and UAS, Dharwad for which a separate facility has been earmarked. A meeting was convened by Director (NBPGR) with the technology providers and Member Secretary, GEAC wherein it was agreed that a tripartite agreement will be signed by NBPGR, MoEF (environment ministry) and technology provider," the minutes from May 12, 2010 said.
Kuldeep Singh, director at NBPGR, said: "That agreement never worked out. It was not signed. So we don't have any seeds from the trials. We don't have any information on where the seeds may be."
Singh added that NBPGR had received Bt Brinjal samples from Fatehabad for testing last week. "We have shared the results with Haryana government. Under a confidentiality clause we are not allowed to share test results with any other person."
Haryana horticulture officials as well as deputy commissioner, Fatehabad, said they had not received NBPGR's test reports so far. But lateral flow strip tests conducted last month by the GM-free coalition, a collective of farmers' organisations promoting organic farming, found that samples from the field of Jeevan Saini, a Fatehabad- based farmer, tested positive for Bt Cry1Ac protein.
Experts said at the time that the seeds could have come from Bangladesh or be old seeds that were supposed to be deposited.
Brinjal is genetically modified by inserting a protein gene (in this case Cry1Ac) that comes from a soil bacteria, Bacillus thuringiensis (Bt), into the Brinjal genome to make the plant resistant to some pests. The lateral flow strip test gives a primary indication if the sample is genetically modified. Farm activists fear widespread contamination through cross-pollination in nearby fields.
In February 2010, after nationwide consultations with scientists, farmers and other stakeholders, then environment minister Jairam Ramesh announced an indefinite moratorium on commercialisation of Bt Brinjal. He said at the time that the moratorium will last till independent scientific studies establish the safety of Bt Brinjal's long-term impacts on human health, biodiversity and environment. Bt Brinjal was found to be bio-safe for environmental release by GEAC in 2009.
"Bt Brinjal seeds that we had before the moratorium decision have been securely stored by us, and the stock is fully accounted for with information to relevant regulatory authorities," said a spokesperson for Mahyco Grow.
The Tamil Nadu Agricultural University (TNAU) has the Bt Brinjal seeds in its custody. "We have stopped working on Bt Brinjal because Tamil Nadu government has taken a decision not to allow it in the state. The Bt Brinjal seeds are safe in our custody. Anyway after three years, they may not be viable anymore. These seeds (used in Haryana) may have entered through Bangladesh," said N Kumar, vice chancellor, TNAU. UAS, Dharwad office bearers were not reachable for comment.
Bt Brinjal is being grown in Bangladesh since 2013.
GEAC officials said they were still unaware of the details and that the environment ministry has not been directly informed.
Farmer groups demanded an immediate inquiry into the lapse because many indigenous varieties may have been already contaminated if Bt Brinjal cultivation is widespread.
"For any illegal cultivation of Bt Brinjal found in India, the crop/event developer should be held responsible as we demanded in 2010 itself, and it is clear that Mahyco and the two state agriculture universities have to be investigated immediately," the GM- free coalition said in a letter to environment minister, Harsh Vardhan, on Saturday. Some activists recalled that Bt Cotton was released illegally before approval.
The "biotech industry's strategy of 'leak illegal seeds first, contaminate and spread the cultivation and present a fait accompli' for obtaining approval is well known. It did this with Bt cotton in India," said Kavitha Kuruganti, convener of the Alliance for Sustainable and Holistic Agriculture.
Topics
Close Story
Personalise your news feed. Follow trending topics