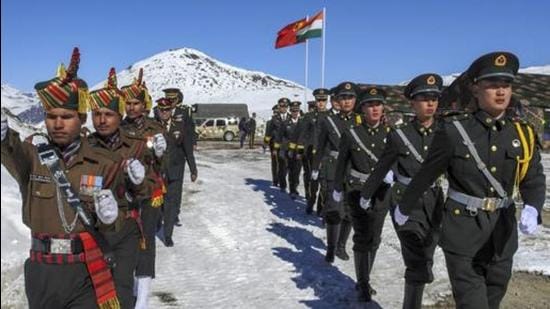 Set up 'buffer zones' to stop border conflicts: Retd PLA colonel
The article marked a year of the first deadly clash along the boundary in decades, in which India said it lost 20 soldiers and China claimed to have lost four troops in the Galwan Valley area in a brutal hand-to-hand combat.
By Sutirtho Patranobis
PUBLISHED ON JUN 16, 2021 08:07 AM IST
India and China should establish "buffer zones" in potentially the most dangerous areas along the Line of Actual Control (LAC) to prevent the festering border dispute from triggering an armed conflict like it happened at Galwan Valley a year ago, a retired People's Liberation Army (PLA) officer has suggested.
Calling it the "boldest step", Senior Colonel (Retd) Zhou Bo of PLA said the setting up of buffer zones or areas where armed forces will not patrol could be an effective way to disengage.
"Perhaps the boldest step might be to establish buffer zones in the most dangerous areas along the LAC. Without prejudicing their respective positions on the boundary question, this is the most effective way to disengage and prevent conflict," Bo wrote for the Hong Kong-based South China Morning Post (SCMP) in an article titled "China and India should look back to move forward on border impasse".
"Both sides agree they shall not follow or tail patrols of the other side in areas where there is no common understanding of the LAC. Building buffer zones is a step further. And it is possible, too," Bo noted.
"From the mountains around Pangong Lake, a de facto buffer zone has already been established after the mutual withdrawal of troops," he pointed out referring to the disengagement of forces and armoured units by both sides on the north and south banks of Pangong Lake in February.
The article marked a year of the first deadly clash along the boundary in decades, in which India said it lost 20 soldiers and China claimed to have lost four troops in the Galwan Valley area in a brutal hand-to-hand combat. India, however, maintains that the Chinese death toll was much higher.
It triggered the worst chill in bilateral ties in recent history and large deployment of troops and heavy weaponry by both armies at the friction points in eastern Ladakh.
India has consistently said that the Chinese troops were the first to trespass across the disputed boundary, triggering the faceoff and deaths of border troops on both sides.
"A year after the shock of a fatal border clash, tensions remain high with no consensus on how to resolve the issues over an unverified LAC," Zhou wrote.
The disengagement process remains incomplete with diplomatic and military talks not leading to a breakthrough at friction points such as Depsang Plains, Gogra and Hot Springs in the eastern Ladakh sector. India maintains that bilateral ties were "very significantly damaged" by Beijing's violation of border agreements and earlier this month, it asked for "speedy completion" of the disengagement process for complete restoration of peace and tranquillity in the border areas and facilitate the progress in bilateral relations. Beijing, however, in a statement issued on Tuesday, asked India to stop being suspicious of China and urged New Delhi to "work with Beijing to strengthen ties instead of working towards building obstacles"..
Following the tension, Beijing was given the cold shoulder when it offered to help pandemic-devastated India; such resentment speaks volumes of the frosty relationship, he pointed out.
"To prevent conflict, both sides should dust off previously agreed confidence-building measures and enforce the less-contentious ones," he suggested.
He suggested establishing hotlines for real-time communication, pointing out that China has military hotlines with Russia, the United States, South Korea and Vietnam.
"India often uses its hotline with Pakistan. There is no reason the two immediate neighbours with territorial disputes should not have similar instruments," he said.
The former PLA officer acknowledged the complexity of the Sino-India border dispute.
"The complexity of the China-India border dispute is daunting. Even the length of the border is not necessarily agreed on. China believes it is 2,000-km-long, while India believes it is 3,488-km," he pointed out.
At the same time, both countries should realise the futility of war, Zhou, who is also a senior fellow of the Centre for International Security and Strategy at Beijing's Tsinghua University, indicated.
"It is ridiculous if, in the 21st century, Beijing and New Delhi are still hijacked by a dispute that is a colonial remnant, not least because apart from this dispute, they have no outstanding problems with each other," Bo said.
"Gone are the days when India said "Hindi Chini bhai bhai," Bo noted. "But China and India have every reason not to become foes. The border issue should not be a perennial curse. The two nuclear neighbours can ill-afford even a conventional war," he added.
Close