Eight killed in Bhiwandi building collapse
An elderly couple was killed and six others injured when a two-storey building collapsed in Bhiwandi on Sunday morning, the second such mishap in the town in a week.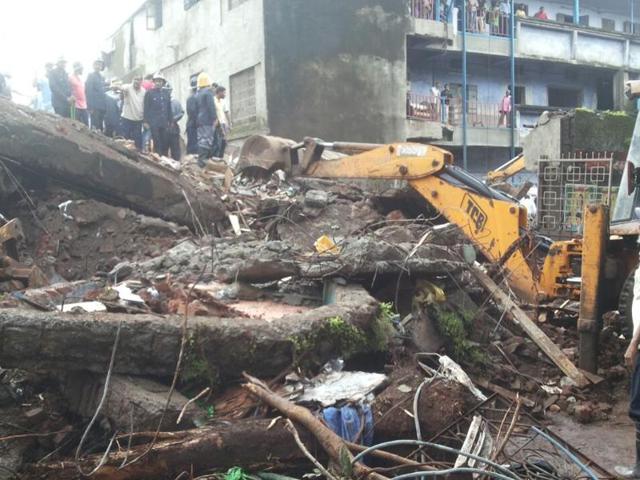 Updated on Aug 08, 2016 01:57 AM IST
Megha Pol and Arvind Walmiki
At least eight people were killed when a dilapidated building, which had been served many evacuation notices earlier, collapsed in Bhiwandi early on Sunday morning.
Rescue services dug out five people from the debris of which two died -- the owner of the building, Sajjanlal Gupta (60), and his wife, Satyawanti Sajjan Gupta (55). An NDRF team rushed to the spot and by evening six more bodies were pulled out of the debris.
The others injured were admitted to the hospital.
The 35-year-old building crashed at around 7:30 am. The building had two wings. The middle part of the building where most of the families were residing collapsed.
The National Disaster Response Force (NDRF) and fire brigade were pressed into service to look for the remaining people in the building. Fifteen fire brigade vehicles from Thane, Kalyan, Navi Mumbai and Bhiwandi had reached the spot to aid efforts.
"We can start the rescue operation immediately but we do not have the required equipment for the same, which the NDRF has. We have to remove the debris manually," Rajesh Pawar, Bhiwandi fire brigade officer said.
According to Sunil Bhalerao, assistant municipal commissioner of Bhiwandi Nizampur Municipal Corporation (BNMC), around 30 people from eight families resided in the building.
The building was an L-shaped structure. One portion of it comprising the stairs had collapsed, leading to the mishap, Bhalerao said.
"The building started falling from one side. We could see mud and plaster falling and later the entire side collapse. The portion which collapsed consisted of the stairs and thus the residents from the adjoining building could not come down," Ram Kesarwani, an eye witness said.
Around 22 residents from the adjoining building were removed by the fire brigade using a ladder.
The BNMC said the building had been served evacuation notices repeatedly since April 20. The water connection was also cut off on June 23 while the tap was cut off on August 5.
"In the month of May, the residents claimed that the building was in good condition and asked us to conduct a structural audit before demolishing it. We carried out the audit and submitted the report on May 30. However, they still refuse to vacate. We served another notice on June 15 and asked the power company to disconnect the power supply on June 22."
This collapse is the second such accident in the district this week; on July 31, a two-storey residential building had crashed in the town amid heavy rains claiming eight lives, including that of four children and three women, while 10 others were injured.
(with agency inputs)
Close Story