More shallow graves found on Ganga bank
Over the past week, scores of dead bodies have been fished out of the Ganga in Uttar Pradesh's Ghazipur and Ballia districts, and Bihar's Buxar district.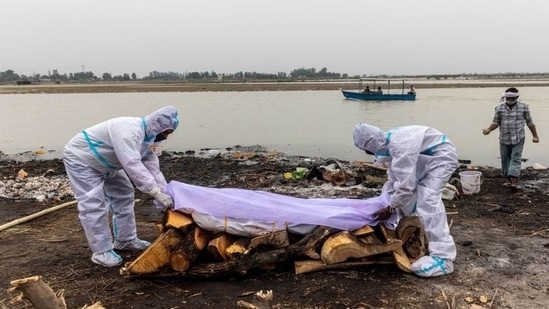 Updated on May 17, 2021 02:08 AM IST
Hundreds of bodies were found buried in shallow sand graves on the banks of the Ganga river in Uttar Pradesh's Prayagraj district on Sunday, triggering panic among local residents.
The graves, many of them covered with clothes or marked by bamboo sticks, were visible at Shringverpur Ghat, Arail, Jhunsi, and near Covid and non-Covid cremation ghats at Phaphamau. Some were also seen close to the Sangam area while a few others were visible from the Phaphamau Bridge, said a local resident on the condition of anonymity.
Over the past week, close to 1,000 bodies were either fished out of the Ganga or found in shallow graves on river banks in Uttar Pradesh and Bihar. Local administration suspect the bodies could be of Covid patients but testing is difficult because the corpses are decomposed.
According to a local resident, most of the bodies found now are of people who have recently died of Covid-19 and their family members don't have money for cremation as the price of wood has gone up.
"Up to ₹22,000 was being charged for a single cremation, till the administration fixed the price at ₹4,000 per body," said the person.
"For the last two-three months, people have been burying their dead here. Sand covering the bodies is blown away by strong winds, exposing the decomposing bodies. Predatory birds and dogs feast gather and feast on the remains. The government should make arrangements for proper burials," Dina Yadav, a local resident, told news agency ANI.
A priest at the Phaphamau Ghat, who requested anonymity, said people hire labourers for a few hundred rupees to dig graves for burial.
Raju Nishad, a boatman at Phaphamau Ghat, said such burials pose a big health hazard to local residents.
As the district administration and the police look to tackle the issue, a police team was deployed along the ghats in Prayagraj on Sunday, and officials were seen urging people to ensure safe burials and cremations. The district administration has also announced ₹5,000 aid to those who don't have the money for cremation.
Inspector general of police of Prayagraj range, K P Singh, said a cremation ground has been earmarked for burials of Covid patients as per protocols, and the police are no longer allowing burials on the riverfront.
Earlier, similar scenes were witnessed in UP's Unnao district, after which a team of the local police carried out an inquiry to find more bodies.
Over the last week, Ghazipur and Bihar's Buxar too have seen grim incidents of bloated, decomposing bodies floating in the river. Many washed up on the shores while some were pulled up by stray dogs.
While it remains unconfirmed if the bodies in Prayagaraj are of Covid-19 patients, nearby residents have said such scenes have never been witnessed before and only started with the second Covid wave. "We have never seen such a sight near the river Ganga before. There are thousands of bodies here. The government should follow 'Swachh Bharat' and maintain cleanliness in the area," Sanjay Srivastav, a local, told ANI.
As per the HT dashboard, Uttar Pradesh reported 10,505 new Covid cases on Sunday, taking its total tally to 1,619,645. The toll in the state has reached 17,546 with 308 new fatalities.
According to the district administration, 165 fresh cases and nine deaths were reported in Prayagraj on Saturday.
Topics
Close Story