Shimla water crisis: Dharamshala shows way to harness water resources
May 29, 2018 11:43 PM IST
Even as the state capital Shimla and other major towns in Himachal are suffering due to severe water crisis, Dharmshala town, also dubbed as second capital, sets an example by ensuring uninterrupted water supply to the residents.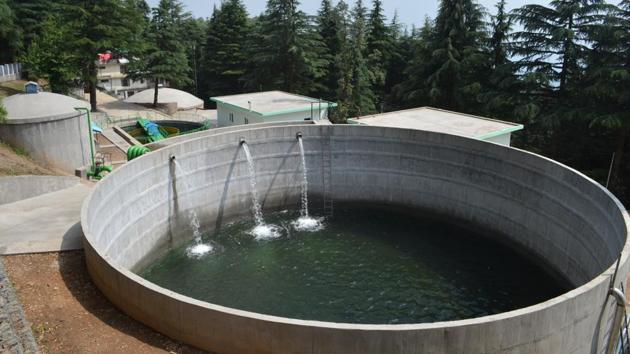 Effective resource management by the authorities has ensured that the town does not face water shortage even in peak summers.
"First and foremost, the town has a natural gift in form of perennial streams that originate from glaciers in Dhauladhar mountains and flow in vicinity of the town," said Deepak Garg, executive engineer (Designs), irrigation and public health department (IPH), Dharamshala.
Secondly, he said, all the four water supply schemes that cater to the need of Dharamshala town have been augmented. So, if there is disruption in one scheme, water is supplied through another.
Gajj stream is the major source of water for Dharamshala, besides two tube wells at Dari locality. One scheme from Bhagsunag waterfall supplies water to McLeodganj while another major scheme has been built at Naddi and is operational.
These schemes have been built keeping in view the future needs and will be able to cater to the town for next 15-20 years.
Garg said the town can be divided into two parts, upper Dharamshala which includes McLoedganj, Bhagsunag and Dharamkot area while lower Dharamshala includes main town, Shyamnagar, Ramnagar and rest of the parts.
"Daily need of Dharamshala town is around 11 million litre water per day (MLD). Lower Dharamshala consumes 10 MLD while upper Dharamshala needs at the most 2 MLD," said Garg, adding, department is supplying adequate quantity.
He said combined capacity of the schemes is more than need of the town.
Elaborating about other steps taken by the department to ensure uninterrupted water supply, Garg said that old pipes across the town are being replaced to plug the leakage.
"The work is underway and the leakage has been minimised," said Garg.
He said even during peak summers and amid heavy tourist rush, department will be able to supply adequate water in the town.