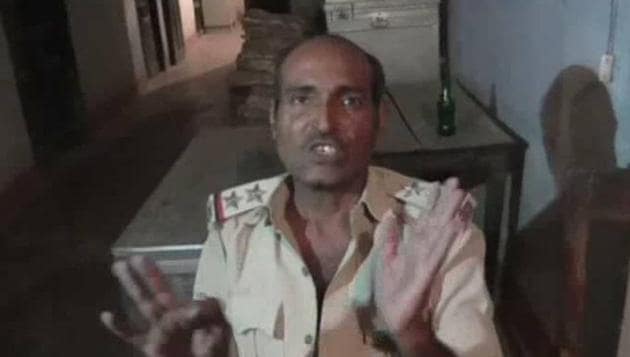 SHO held for boozing in police station in dry Bihar, sent to jail
Rameshwar Singh, SHO (in-charge) of Kazi Mohammadpur police station at Muzaffarpur town of Bihar, has been suspended after breath analyzer test confirmed alcohol content in his blood.
Hindustan Times, Muzaffarpur | By Ajay Kumar
UPDATED ON MAY 10, 2017 03:13 PM IST
MUZAFFARPUR: On a day when it was revealed that rodents had polished off nine lakh litres of confiscated alcohol in dry Bihar, a station house officer (SHO) in the state's Muzaffarpur district was arrested on the charge of consuming liquor he had allegedly seized earlier.
Rameshwar Singh, SHO (in-charge) of Kazi Mohammadpur police station at Muzaffarpur, 71 kms north of Patna, is the third policeman to have been arrested since Wednesday night for consuming liquor.
Bihar Police Men's Association president Nirmal Kumar Singh and another office-bearer Shamsher Khan were arrested late Wednesday night for allegedly consuming liquor and creating nuisance on the premises of the new police lines in Patna.
Muzaffarpur senior superintendent of police (SSP) Vivek Kumar said Rameshwar Singh was taken into custody Thursday night after he was found roaming on the police station premises in an inebriated condition and making lewd comments to passers-by.
The breath analyzer test had confirmed alcohol content in his blood, the SSP said, adding that the arrested SHO was on Friday produced in a court, which sent him to jail.
The erring police officer had been suspended and legal proceedings initiated under the prohibition law, Kumar said.
Bihar became a dry state on April 5, 2016. Under the state's prohibition law, consuming, keeping or dealing in liquor is an offence, which attracts imprisonment up to 10 years. On February 15, 2017, the Bihar cabinet amended the Bihar Government Service Conduct Rules, barring bureaucrats and judicial officers from consuming liquor or any intoxicating substance even when they were outside the state.
Meanwhile, cops deputed at the Kazi Mohammadpur police station, said on condition of anonymity that Singh had arrested a person with six bottles of liquor on Thursday noon. "The SHO took one of the bottles and consumed it in the night," they added.
Setting aside the allegation, Singh said that he had been framed for ignoring orders from some senior police officers to release the man he had arrested with liquor bottles.
Interestingly, media reports on Thursday quoted police officers saying that while some liquor bottles, seized during raids, had been destroyed, around 9 lakh litres, left at 'malkhanas' (store room) of different police stations, had been consumed by rats.
"We have asked the Patna zonal IG to inquire into the matter. Based on his findings, the state police headquarters will initiate further action," additional director general of police (headquarters) S K Singhal said.
Close