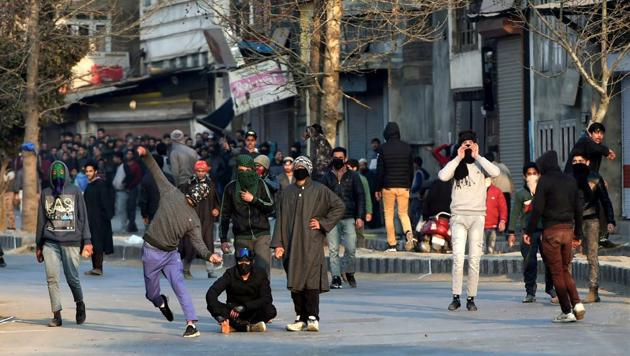 My son was doing his duty: Father of Major accused in Shopian firing moves SC to quash FIR
Major Aditya, who is part of the 10 Garhwal Rifles, is named in an FIR that was filed after three civilians were killed in Army firing in south Kashmir's Shopian last month.
UPDATED ON FEB 08, 2018 03:57 PM IST
The father of army major Aditya Kumar on Thursday moved the Supreme Court, demanding that an FIR registered against his son by the Jammu and Kashmir Police in the shooting death of three civilians be quashed.
His son was just doing his duty and was "wrongly and arbitrarily" named, lieutenant colonel Karamveer Singh said in his petition, adding the officer's intention was to save army personnel and property.
Maj Kumar, who is with 10 Garhwal Rifles, was named in the FIR filed against his unit after the army firing on protesters left three people dead in Shopian on January 27.
Police have accused the Garhwal unit of murder, attempt to murder and endangering life.
The soldiers opened fire "only to impair and provide a safe escape from a savage and violent mob engaged in terrorist activity", the plea said.
The FIR was arbitrary as the incident was related to an army convoy on military duty in an area under the AFSPA, he said.
The army had on February 1 submitted its version of events to police.
It said the soldiers fired on protesters in Ganawpora village in "self-defence" to prevent the lynching of an officer, snatching of weapons by villagers and burning of their vehicles.
Lt Col Singh's plea echoed the army.
When the mob got hold of a junior commissioned officer and was about to lynch him, warning shots were fired to disperse the people and protect public property, the plea said.
The army was working in "extremely hostile conditions", Singh said and cited the lynching of DSP Mohd Ayub Pandith to drive home the point. The DSP was beaten to death outside a mosque in Srinagar.
The manner in which the lodging of the FIR was portrayed and projected by the political leadership and the administration reflected the hostile atmosphere in the state, he said. He had approached the court to protect the fundamental rights of his son and himself.
The petition also sought guidelines to protect the rights of soldiers and adequate compensation so that no personnel were harassed by criminal proceedings for exercising their duty.
The FIR had kicked up a storm in the state, pitting ruling coalition partners Peoples Democratic Party (PDP) and Bharatiya Janata Party (BJP) against each other.
While BJP lawmakers demanded the complaint be withdrawn, chief minister Mehbooba Mufti, who is also the PDP chief, said it was the duty of the government to take the FIR to its logical conclusion.
Close